Medieval Monday! Dragon Knight's Sword by Mary Morgan
It's Medieval Monday and I'd like to feature Mary Morgan, author of Dragon Knight's Sword.  Hope you enjoy this Medieval Monday's feature!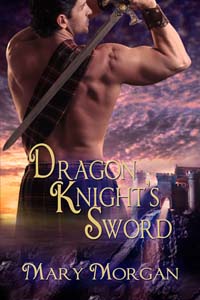 Duncan Mackay will do anything to lift the curse from his family – even forfeit his own life. But his plans change when he encounters the woman from his dreams, literally. She is from the future, somehow has his lost sword, and can talk to the Dragon that is able to lift his family's curse.
Brigid O'Neill has spent her life listening to the mythological legends from Ireland and Scotland. So, when an ancient sword lands at her doorstep and she starts dreaming of a rugged Highlander, she drops everything and takes on a quest that will alter everything she believes.
Before their journey ends, not only will Duncan and Brigid battle an ancient curse, they must also find the courage to believe in the destiny that brought them together.
Excerpt:
He stood next to the waterfall. Beads of water glistened from his dark locks.
Brigid watched as they trailed down his chiseled torso, traveling down to where his tartan was wrapped low on his waist. The wind whipped at the folds of his plaid, the power coiling within and around him, as mystical as the land he stood on.
"Ancient warrior," she uttered softly.
When she looked up into his eyes, they smoldered with desire, and it startled her. A sensual shiver ran through her, wanting to be crushed within his embrace. The raw desire to be in this man's arms, touching and tasting him, was so potent, she could feel her heart hammering inside her chest.
He tilted his head to the side, as if studying his prey.
Brigid didn't know if she should run or step into his massive arms.
He took a step toward her, and her pulse quickened. The very air around her seemed electrified. He then took another…and another, until he stood
merely inches in front of her.
Her breathing became labored, as he bent his head leaning close to her ear. She was engulfed in a sensual haze wanting his lips to touch her anywhere and put an end to her torture. His mouth was so close, she could feel a dark lock of his hair against her cheek, and she shuddered.
"Bring me back my sword," he growled into her ear.
Brigid's eyes flew open, clutching the sheets as the last fragments of her dream faded.
Buy Links:
Amazon, Barnes & Noble, TWRP – The Wild Rose Press
Follow Mary via:
http://www.facebook.com/mary.morgan.564
http://www.twitter.com/m_morganauthor
http://www.pinterest.com/marymorgan50