Medieval Monday! Eyes of the Seer by Ashley York!
Medieval Monday is here, featuring author's choice.
For this week, please help me welcome Ashley York. The continuing excerpt is from her novel, Eyes of the Seer, book two in The Derbfine Series.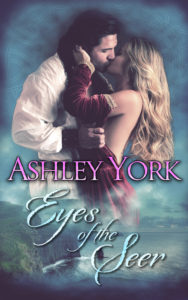 Excerpt –
Marcán dropped his head in his hands.
"Thank ye for bringing Diarmuid and Aednat back to us." Astrid settled beside him, leaving a discreet distance between them. "Ye look done in."
He smirked. "I have heard as much."
"Is there anything I can get for ye?"
Somewhere in his mind, he struggled to determine if her behavior was as unusual as it seemed.
"I need to see to Diarmuid," he said.
"Surely he can wait until ye've at least rested?"
What her novel is about –
In ancient Ireland, men and women take to the legends for answers. Different-colored eyes are the mark of a Seer, it is said, and those who can see the future are in league with the devil. They cannot be suffered to live.

He wishes to prove himself…
Marcán of Clonascara bears the bloodline of Brian Boru, the legendary high king, and his prowess as a warrior has earned him great respect. But he was born with different-colored eyes, and there are some who would have him suffer a Seer's fate. His fiercest adversary is Beibhinn, mother to Diarmuid, his close friend and king, and Astrid, the woman who holds his heart. If Astrid ever showed him any interest, he would fight Beibhinn and any army to wed her.

She is desperate to escape…

Astrid is sick of her mother's belittling, but her brother is in no hurry to see her married, so she decides to see to her own match-making. The man she approaches quickly reveals his lack of honor, but her overbearing mother pushes her to wed him anyway. When Astrid discovers Marcán's love for her, she realizes that what she wants has been in front of her all along. True happiness awaits them, but only if they can put a stop to her mother's plans.
Buy Links –
Amazon
https://www.amazon.com/Eyes-Seer-Derbfine-Book-2-ebook/dp/B072MFRH8G/ref=sr_1_1?ie=UTF8&qid=1516211640&sr=8-1&keywords=eyes+of+the+seer
iTunes
https://itunes.apple.com/us/book/id1324663545
KOBO
https://www.kobo.com/us/en/ebook/eyes-of-the-seer-4
Barnes & Noble
https://www.barnesandnoble.com/w/eyes-of-the-seer-ashley-york/1126525453?ean=2940155444480
Don't forget to leave a review!