Medieval Monday! First Encounter in Betrothal by Jenna Jaxon!
It's Medieval Monday! Today, I am honored to feature the gifted Jenna Jaxon and the excerpt from Betrothal.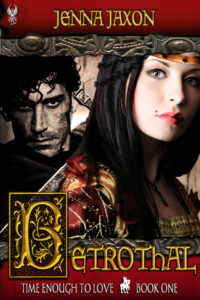 It's about –
The heart can choose, but can it also change?
Lady Alyse de Courcy has fallen in love with Lord Braeton, a nobleman in King Edward III's court and a man to whom she has barely spoken. Fate, however, has decreed her betrothal to his best friend, Sir Geoffrey Longford—a handsome and imposing knight, yet hardly the man she wants to wed.
When Sir Geoffrey is bound in betrothal by his father, he could not have expected the beautiful stranger to win his heart the moment they meet. But Alyse's infatuation with his friend casts doubt on whether she can ever return his regard and their wedding day is fast approaching…  Will he have time enough to win her love?
Continuing along with the excerpt –
Oh, Father, what have you done to me?
As they continued down the long side of the Hall, Geoffrey leaned over to ask, "Why so quiet, my lady? Are you in awe of me or merely stunned by the good fortune of our betrothal?"
Outraged by the conceited fool, Alyse opened her mouth to explain exactly how unimpressed she was, both with him and her so-called good fortune, but instead met eyes of darkest sapphire flickering with merriment at her indignation.
So the oaf has wits.
Buy Links:
AMAZON: https://www.amazon.com/dp/B00CF6UZFW
B&N: https://www.barnesandnoble.com/w/betrothal-jenna-jaxon/1115182506?ean=2940044481251
SMASHWORDS: https://www.smashwords.com/books/view/307838