Medieval Monday! First Encounter in Her Christmas Knight by Nicole Locke!
It's Medieval Monday! Today, I am honored to feature the talented Nicole Locke and the excerpt from Her Christmas Knight.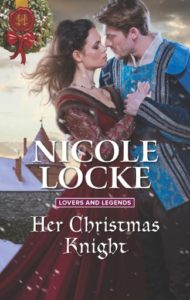 It's about –
A knight to protect her—this Yuletide 
By order of the English king, Alice of Swaffham searches London nobility for the traitor dealing information to the Scots. Little does she know that the mysterious spy she seeks is the man she once loved and thought she'd lost forever… 
If Hugh of Shoebury felt unworthy of Alice before, as the Half-Thistle spy he can never claim her heart. Now he must fight to keep not only his dark secrets—and Alice—safe from a vengeful king…but also his burning longing for her at bay!
Continuing along with the excerpt –
He stepped away. The crowd moved into the space before her. Their voices finally reached her ears. The circular room was clanging and echoing with cries of protest, outrage, laughter, loud talk.
The courtiers stared and pointed at her chest. Embarrassment warmed her skin. Had the ribbons around her dress loosened as Hugh held her so tightly? Had she become undressed—here, in public, at Court?
Pretending to check on nothing at all, she lowered her eyes, but nothing was indecent. The light green ribbon that wound round her chest and sleeves still held her blue linen dress together. She was intact; there was nothing to cause her shame.
And she still had the seal clutched to her body,
Next Monday, I'm at Ceci Giltenan's blog: https://cecigiltenan.com
Buy Links:
Amazon: myBook.to/Lovers-n-Legends6
Harlequin: https://www.harlequin.com/shop/authors/24841_nicole-locke.html