Medieval Monday! First Encounter in Dragon Knight's Axe by Mary Morgan!
It's Medieval Monday! Today, I am honored to feature the talented Mary Morgan and the excerpt from her novel Dragon Knight's Axe.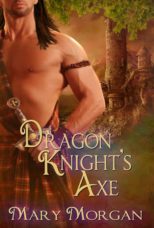 It's about –
Alastair MacKay, a battled-scarred Dragon Knight flees to the sea to separate himself from his fae-given power connecting him to the land. But it is on land that he rescues a woman from a slave trader in Ireland. It is through Fiona he steps back inadvertently into a world filled with magic—taking on the role of protector and at the same time leading him on a journey to confront his greatest regret and fears.
Research assistant, Fiona O'Quinlan loves translating ancient artifacts at Trinity College. When she falls asleep on an archeological dig, she awakens in another time. She soon discovers a Dragon Knight's relic has been entrusted into her care. Determined to return the artifact to the Great Glen, Fiona is unprepared for the danger ahead—losing her heart and soul to Alastair "Beast" MacKay.
Will their love be strong enough to soothe the beast and heal the man? Or will Death swing its axe, leaving them lost for all eternity?
Continuing along with the excerpt –
A new captor…
"Done!" Robert spit into his hand and held it out.
Instead of shaking his hand, he dropped the ten stones onto his palm. He waved over his head and another man came forth. "Have Steiner bring me a barrel of my whisky."
"The Kelly won't be pleased."
"Do not worry about him. I will send Steiner with another of my private stash."
"Aye."
Robert stepped aside. "I do not understand why ye would want this one."
"I do not expect ye to," replied her new captor.
Fiona's eyes went wide when her demon took a hold of her rope and walked her away from the crowd.
As soon as they passed the hoard of people, he turned to face her. "What is your name, lass?"
Her tongue felt as if it were plastered to the roof of her mouth.
"Can ye not speak?" he asked.
"Fi…ona…Fiona O'Quinlan," she stammered.
Follow along next week on Jenna Jaxon's blog: https://jennajaxon.wordpress.com/
Leave a comment for a chance to win a digital copy of Dragon Knight's Axe by Mary Morgan.
Buy Links:
Amazon: https://www.amazon.com/Dragon-Knights-Axe-Order-Book-ebook/dp/B00Y5756TO/
BN: https://www.barnesandnoble.com/w/dragon-knights-axe-mary-morgan/1122070231/
Kobo: https://www.kobo.com/us/en/ebook/dragon-knight-s-axe-1
iBooks: https://itunes.apple.com/us/book/dragon-knights-axe/id996720081?mt=11