Medieval Monday! First Encounter in The Highlander's Viking Bride by Cathy & DD MacRae
It's Medieval Monday! Today, I am honored to feature the talented Cathy & DD MacRae and the excerpt from their novel The Highlander's Viking Bride.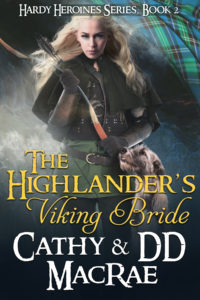 It's about –
Calder MacGerry, laird of an impoverished clan, has resolved to end the bitter feud between the MacGerrys and Sinclairs. He jumps at Laird Sinclair's offer of marriage to his only daughter, Katja, to seal the agreement between their clans—only to get more than he bargained for.
Katja's chance to escape her father's harsh treatment appears to be too good to be true. But becoming Lady of a clan that despises her because she's a Sinclair, doesn't make her life any easier. When the attacks turn deadly, she fights her way out, making a dangerous passage to the Shetland Isles for refuge with her Viking family.
Calder and Katja's marriage, built on mistrust, rushes quickly into disaster. As Calder seeks to repair the damage, Katja discovers not another enemy, but a husband who pledges a new beginning.
Continuing along with the excerpt –
Skirting the red auras, Katja moved silently into the room, attracting no attention. Years of avoiding her father gave her the skill to move about the castle like a ghost, finding tremendous value in being invisible when the need called for it. It wasn't until she stood near the foot of the lower tables that anyone noticed her. Laird Sinclair's eyes gleamed.
"Ah, here is my daughter. Katja, meet the new MacGerry Laird."
Buy Links:
Amazon: https://www.amzn.com/dp/B0728HWJRY
B&N: http://www.barnesandnoble.com/s/2940157486617
Kobo: https://www.kobo.com/us/en/ebook/the-highlander-s-viking-bride