Medieval Monday! Hearts Across Time by Sherry Ewing
For Medieval Monday, I will be featuring excerpts about celebration!  Today, I have Hearts Across Time by the amazing Sherry Ewing! Enjoy!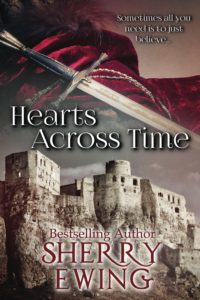 Here's the blurb so you get an idea of what the story is about –
Bestselling author Sherry Ewing presents this special edition box set getting 5 star reviews that is combining Katherine and Riorden's complete story from For All of Ever and Only For You in Hearts Across Time: The Knights of Berwyck, A Quest Through Time Novel (Books One & Two).
Sometimes all you need is to just believe…
For All of Ever: Katherine Wakefield has dreamed and written of her knight in shining armor all her life. Yet, how could she have known that when she and her three closest friends take a dream vacation to England that they'd find themselves thrown back more than eight hundred years into the past? Riorden de Deveraux travels to Bamburgh answering the summons of King Henry II. But nothing prepares him for the beautiful vision of a strangely clad ghost who first appears in his chamber. Centuries are keeping them apart until Time gives them a chance at finding love. Will the past of one consume what their future may hold, or will Time take the decision from them and hurdle Katherine forward to where she truly belongs?
Only For You: Katherine de Deveraux has it all but settling into her duties at Warkworth Castle is not easy and downright dangerous to her well-being. Consumed with memories of his father, Riorden must deal with his sire's widow. Yet how could he know how far Marguerite will go to have the life she feels they were meant to live? Torn apart, Time becomes their true enemy while Marguerite continues her ploy to keep Riorden at her side. With all hope lost, will Katherine & Riorden find a way to save their marriage?
Excerpt –
The golden sun began to peek over the ocean horizon, splashing the morning sky with a thousand shades of pink and orange. The further it rose, the more color splattered across the cloudless sky until all traces of the earlier shades vanished. 'Twas obvious, the perfect day was a gift from the heavens and a priceless tribute to the woman Riorden would call his wife for the rest of his life.
Riorden was in no rush to head down to the Great Hall.  There was no need. Katherine and her ladies had insisted 'twas bad luck to see the bride afore the wedding. He had never heard of such a custom, but who was he to tempt fate? Nay, he dare not look upon her, if such an occurrence would displease God, and in His wrath, He would wrench Katherine back from whence she had come.
Patrick brought Riorden a small repast, along with water to wash and fresh garments Lynet had lovingly sewn for his wedding. He was not surprised when he saw the tunic. Gilded fabric had been embroidered and used as trim on the deep blue cloth Katherine herself had chosen, saying the color would match his eyes. He smiled, wondering how she would look in the golden material he had chosen for her. He supposed, he would find out soon enough.
A knock roused Riorden from his musings of his lovely lady. Opening the door, he saw Aiden standing there, also dressed in his finest.
"What…no sword?" Riorden inquired in jest. He also was to leave his sword within his chamber, although he stowed a small, serviceable blade in his belt.
Aiden appeared completely ill at ease. "Nay! Amiria refused to allow such in the chapel. God's wounds, Riorden…I feel as if I am only but half dressed."
A chuckle rumbled inside Riorden. "Do not be so troubled, my friend. The mass and ceremony should be no longer than an hour or two. Surely, your sister will allow you your blade afterwards."
"Ha! Easy for you to say. She made it clear she does not trust me."
"Let me guess," Riorden mulled over. "She hid it from you, did she?"
"My twin knows me only too well, I am afraid," Aiden muttered miserably. "Dristan has hidden hers, as well. At least he managed to get her into a dress, instead of boots and hose."
"Knowing Amiria, I am sure she will in no uncertain terms let me know of the sacrifice she has made, on the behalf of my lady, to appear in such."
Aiden at last smiled knowingly. "You can count on it."
"Why are you here? It cannot be time, as yet, is it?"
"Damn, I almost forgot my purpose," Aiden cursed. "Dristan asked that you come to his solar. He will then accompany you to the chapel at the appointed hour."
"Then let us be on our way, since I am all but done here," Riorden said, and they made their way up to the third floor.
He had just taken the last step on the tower stairs, when he halted his progress to peer down the passageway toward Lynet's chamber. Intent on listening to the bubbly laughter of his soon to be wife and her friends, he began to hear a strange haunting melody, most likely coming from the machine Kat called a cellphone. She was so close, and he found he had missed her company this past eve, more than he would have thought possible.
He took a step in the direction towards where, in his heart, he wanted to be until he felt Aiden tugging at his arm.
"Come on, Riorden. You shall see her afore you know it."
Buy Links – available in eBook and paperback
Amazon: http://amzn.to/1Y3XWmL
Barnes & Noble: http://bit.ly/1trffVj
iBooks: http://apple.co/1MH6NtO
Kobo: http://bit.ly/1UxFUv3
Authors work hard to bring you these wonderful stories.  Please don't forget to leave a review!