Medieval Monday! Only for You by Sherry Ewing!
It's Medieval Monday! We are featuring author's choice this time around. Please follow along with the excerpt each week for your chance to win prizes and read exciting romances.
For this week, please help me welcome Sherry Ewing! The continuing excerpt is from her novel, Only for You: The Knights of Berwyck.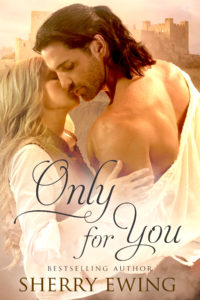 Excerpt –
Marguerite stomped her foot. Katherine was afraid to see what disgusting objects went flying onto their clothes. "Would someone tell me just what is going on here? Riorden, you have much to explain. Who is this woman?"
Katherine gave him a small smile of understanding and watched him turn back to the woman he once proclaimed to love.
"I have been remiss in introductions it seems, although you hardly gave me the chance," Riorden began. "Marguerite, may I present my wife. This is Katherine."
"Wife?" she screamed.
"Aye, we wed at Berwyck over three fortnights ago."
"But the king promised me that we would wed," Marguerite pouted and began wringing her hands. "He gave me his word."
"'Tis clear His Majesty spoke his intentions afore he was informed of my wedding, but that is of no consequence now," Riorden said, and Katherine observed Marguerite's face turn red with rage.
"Of no consequence?" Marguerite gasped.
Follow along next week on Ashley York's blog at WWW.ASHLEYYORKAUTHOR.COM
What her novel is about –
Sometimes it's hard to remember that true love conquers all only after the battle is over…
Katherine de Deveraux has it all or so she believes when she begins her life with her husband Riorden. But as she starts to settle into her duties as the Countess of Warkworth Castle, she finds that an easy life is not only difficult but downright dangerous to her well-being.
Consumed with the haunting memories of his father, Riorden must deal with his sire's widow who just happens to also be his ex-lover. Yet how could he know just how far Marguerite is willing to go in order to have the life she feels they were truly meant to live?
Torn apart by circumstances neither Katherine nor Riorden could ever imagine, Time becomes their true enemy even while Marguerite continues her ploy to keep Riorden at her side. With all hope lost, will Katherine and Riorden find a way to save their marriage and have their happily ever after ending, or will Katherine be whisked back to where Time truly feels she belongs?
Buy Links ~ Read for #FREE in Kindle Unlimited:
Amazon US: http://amzn.to/1MLVECd
Don't forget to leave a review!