Medieval Monday! Shadow of the Swan by Judith Sterling!
It's Medieval Monday on Tuesday! Sorry for the delay in posting this week. The WordPress gremlins were actively disrupting my attempts. But I have them caged for now. So, without further ado, here is Medieval Monday!
Please follow along with the excerpt each week for your chance to win prizes and read exciting romances.
For this week, please help me welcome Judith Sterling! The continuing excerpt is from her novel, Shadow of the Swan!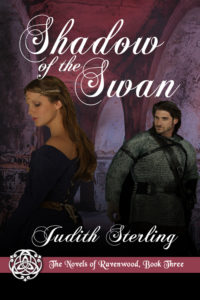 Excerpt –
The lively fireplace greeted them as they entered the chamber. Already, the space was warmer than before. Two stools stood in front of the fire. A table lined one wall; above it hung another fine tapestry, whose threads wove the image of a swan on a secluded, tree-lined pond. Directly opposite sat the bed. Its canopy was suspended from the ceiling, and rich green curtains spilled down around the carved, wooden headboard and frame. The inner sanctum, with its turned-down linen and coverlets, waited in shadow.
She stared. A person could lose herself in a bed like that. And in eyes as infinite as her husband's.
Follow along next week at Cathy MacRae's blog:  https://www.cathymacraeauthor.com/bits-n-bobs-author-blog
What her novel is about –
Lady Constance de Bret was determined to be a nun, until shadows from the past eclipsed her present.  Marriage is the safest option, but she insists on a spiritual union, in which physical intimacy is forbidden.  Not so easy with a bridegroom who wields unparalleled charm!  But a long-buried secret could taint his affection and cloak her in shadow forever.
Back from the Crusades, Sir Robert le Donjon craves a home of his own and children to inherit it.  From the moment he meets Constance, he feels a mysterious bond between them.  When she's threatened, he vows to protect her and agrees to the spiritual marriage, with the hope of one day persuading her to enjoy a "real" one.  She captivates him but opens old wounds and challenges everything he thought he believed.
Two souls in need of healing.  Two hearts destined to beat as one.
BUY LINK:
Amazon:  https://amzn.com/B078JYQDTX
Barnes & Noble:  https://www.barnesandnoble.com/w/shadow-of-the-swan-judith-sterling/1127751024?ean=2940158925597
The Wild Rose Press:  https://catalog.thewildrosepress.com/all-titles/5561-shadow-of-the-swan.html
Don't forget to leave a review!