Medieval Monday! To Weave a Highland Tapestry by Mary Morgan!
Today, I'm featuring the wonderful Mary Morgan and her novel To Weave A Highland Tapestry.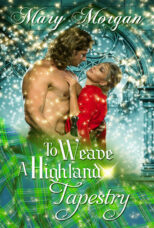 What's it about?
Patrick MacFhearguis, hardened by battles won and lost, desires what he can never have—peace
within his heart and soul.  Yet, the ever-meddling Fae weave a new journey for him to
conquer—a task this highlander is determined to resist.
When skilled weaver, Gwen Hywel, is commissioned to create a tapestry for the MacFhearguis
clan, she embraces the assignment. While seeking out ideas, she finds herself clutching the one
thread that can alter the tapestry of her life and heart.
A man conflicted by past deeds. A woman with no family of her own. Is it possible for love to
unravel an ancient past, in order to claim two badly scarred hearts? Or will the light of hope be
doused forever?
Buy To Weave A Highland Tapestry here –
Here's the continuing excerpt from To Weave A Highland Tapestry –
"My goodness. It's beautiful," observed Gwen, leaning against him. "And look, they've
brought Meggie's tapestry back inside the hall. The MacKays surely know how to celebrate."
Within that moment, Patrick made a silent vow that one day he would see the same light
enter his home. His heart soared at the possibility. With ye by my side, Gwen, I shall give ye this
beauty.
"Why is there no fire in the giant hearth?" asked Gwen.
"'Tis a custom to wait for the procession of the druids to bring forth the Yule log and
light the first spark. I pray our ways do not offend ye."
Follow along next week on Lane's blog here: http://lanemcfarland.com/blog/
And don't forget that I'm on Mary's blog today! Drop by and leave a comment! Mary's Tavern