First Kiss February – Where The Wild Wind Blows by LH author Nancy Morse
Today's Special First Kiss February featured guest is Nancy Morse, author of historical romance Where The Wild Wind Blows.  Welcome Nancy, my fellow Love Historicals author!  Here's the first kiss between Katie and Black Moon.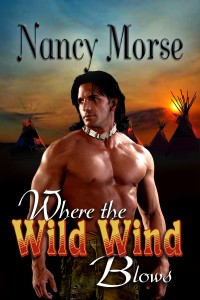 Not all first kisses are gentle and sweet. This one was too long denied and led to forbidden passion, as in this scene from WHERE THE WILD WIND BLOWS.
Her eyes blazed up at him and her chest heaved and strained against the tanned skin of her dress. He pulled her hard up against his naked chest. Winding his arm around her waist, he crushed her body to his, taking her breath away with the strength of his hold. She opened her mouth to protest, but the sound was eclipsed by his lips that closed over hers in a hard, anger-filled kiss.
There was no tenderness in him, no gentleness. Holding her pinned against him, he kissed her harshly and thoroughly. She felt the bite of his arousal beneath his breech cloth and the hard muscles of his thighs wrapped in leggings of blue trade cloth. Her legs grew weak. Her thoughts began to spin out of control. Trapped in Black Moon's powerful embrace, Katie was unaware at first of the way her own body was responding.
It grew upon her slowly. The throbbing began somewhere deep down inside, spreading outward, racing like a wildfire through her bloodstream to every limb until the feverish pounding threatened to consume her. Her mind gave up its hold on reason, ceding control to her emotions. Without thinking, she lifted her arms and wound them around his neck.
His hand moved slowly up her back to caress the bare flesh at the nape of her neck beneath the heavy curtain of her hair. His fingers entwined themselves in the thick, red mass, crushing it in his palm.
She made a little sound that vaguely resembled a moan. She struggled, but only halfheartedly. Something took hold of her that she didn't fully understand. In the arms of this half-naked man she was powerless to do anything but submit. She was all too conscious of the pressure of his lean, hard body, the heat of his flesh, the softness of his hair between her fingers.
His voice issued from a place deep in his chest, low and threatening against her lips. "If you know what is good for you, you will leave this place now. If you stay, you know what will happen."
Yes, she knew where this was leading, but she had not the will to try to stop it. His kiss was hot and strong and sucked the breath right out of her lungs. She could scarcely breathe when he guided her to the ground.