First Kiss Friday – A Knight to Call My Own by Sherry Ewing
Today's First Kiss Friday featured guest is Sherry Ewing, author of historical romance A Knight to Call My Own.  Welcome back Sherry!  Here's the first kiss between Lynet and Ian MacGillivray.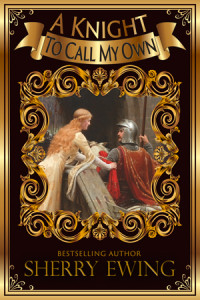 Blurb:
When your heart is broken, is love still worth the risk?
Lynet of clan MacLaren knows how it feels to love and not have that love returned. Her brother-in-law has decided a competition for the right to wed Lynet is just the thing his willful charge needs to force her hand.
Ian MacGillivray has returned to Berwyck in search of a bride. But Lynet is anything but an easy conquest and he will need more than charm to win her hand.
From the English borders to the Highlands of Scotland, the chase is on for who will claim the fair Lynet. The price paid will be high to ensure her safety, and even higher to win her love.
Excerpt:
When would she stop making such stupid decisions as actually looking at the man, not that she had anywhere else to gaze, given his close proximity. The firelight from the torches in the wall sconces brought out the red of his hair. She would have sighed at the sight of it, but would not give him the gratification. His heavy lidded, hazel eyes took on a light of their own and seemed to search into her very soul. She gulped and watched a gleam enter those knowing orbs whilst a discerning grin formed on his mouth. A mouth that was rapidly closing the distance between them!
"Do not dare─"
Her words were cut off as his mouth quickly took possession of her own, for possess her he did, with just the slightest first brush of his lips. She gasped when a turbulent wave of searing heat radiated throughout her entire body. But, such a profound encounter only allowed him to further plunder her senses as his tongue began to frolic with her own. Sweet Jesus, what in the world is he doing to me?
She felt his hands cup her face 'til he tilted her head, allowing him better access to her mouth. An unexpected moan escaped her. 'Twas, apparently, what he had wanted to hear from her. The sound surely only confirmed his own damn suspicions that she had told a lie when speaking of the effect of Rolf's kiss. She was certain such a revelation pleased him.
His hands began a slow descent as they roamed down her back 'til he cupped her bottom, bringing her up hard against his solid frame. She quaked in response to such intimacy between them. Her shock did not stop his arm from winding around her waist, keeping her firmly in place as he continued to devour her last shreds of reality. The disbelief of feeling his firmly muscled body pressed up against her own sent any sense of prudence to remain indifferent to him fleeing from her mind. How could one keep a hold on any form of rationality when all she could suddenly feel was the unmistakable form of his manhood pressed intimately against her?
She was lost, and she unexpectedly cared not. Nay…all she could recognize in her feeble attempts to remain level headed was the fact that any control of the situation she may have had up to this point had vanished as soon as Ian had kissed her. Her arms made their way up and around his neck to playfully finger his shoulder length hair. She mimicked what he was doing to her mouth, letting him teach her what he liked. She must have done something right, for she heard his own groan of pleasure whilst he tightened his grip upon her.
Was it just her imagination, or did her body seem to mold itself to his own, as if they had been made for one another, even whilst his hands roamed freely over her backside? And yet, she did not complain, or even make the slightest protest. This was how it felt to finally be in his arms. She had dreamed of this moment for so long, she was almost waiting for someone to come and wake her, for surely she must be dreaming. She reached out and clasped the nape of Ian's neck as she urged him onward in this journey he was taking her on. 'Twas sheer bliss…bliss 'til she felt herself being rudely yanked from his embrace.
Lynet gazed around with passion filled eyes to see who had interrupted them, but there was no one near, except the man who had proved his point that Rolf was not the knight for her. Aye! The deliberate burning glare in those obnoxious hazel eyes told her he knew exactly what he had done to her, and he was glad for it, the bastard.
Ian leaned down from his towering height so they came almost nose to nose. "Lesson number one, Lynet, is never lie to me again. Rolf is a good man, but he will never be able to make you feel the way I can. I will be victorious at the end of the games, and you will be my wife. You…are…mine."
Buy Links:
Amazon: http://amzn.to/1BV0DM4
Barnes & Noble: http://bit.ly/1AYMWRk
iBooks: http://apple.co/1KlvAjx
Inktera: http://bit.ly/1fMkyII
Kobo: http://bit.ly/1JEmbCR
Oyster: http://bit.ly/1f7JVns
Scribd: http://bit.ly/1HRz33W
Social Media:
Website & Blog: http://www.SherryEwing.com
Bluestocking Belles: http://BluestockingBelles.com
Facebook: https://www.Facebook.com/SherryEwingAuthor
Pinterest: http://www.Pinterest.com/SherryLEwing
Twitter: https://www.Twitter.com/Sherry_Ewing
Sign Me Up!
Newsletter: http://eepurl.com/-jGfj
Street Team: http://eepurl.com/bfxO95