First Kiss Friday – The Playboy's Fugitive Bride by Ana Ross
Today's First Kiss Friday featured guest is Ana Ross, author of contemporary romance The Playboy's Fugitive Bride – Book 3 in the Billionaire Brides of Granite Falls.  Welcome Ana!  Here's the first kiss between Nia Sylk and Massimo Andretti.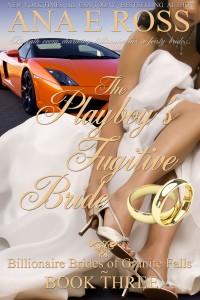 Blurb:
Deadly threats from a loan shark to pay back a debt her late father incurred sends Nia Sylk on a desperate search for Massimo Andretti, the man she blames for her predicament and her father's death. Determined to make him pay, Nia concocts a plan she knows Massimo will find hard to refuse. The trick is to get close enough to him to make the offer, and then persuade him to accept it.
Italian playboy, Massimo Andretti must marry before his 34th birthday and produce an heir within a year if he wants to keep his billion-dollar inheritance.  So when Nia Sylk, a beautiful schoolteacher offers him her virginity in exchange for four million dollars, Massimo weighs the lustful benefits of marrying the brazen, little, sharp-clawed pussycat to satisfy the terms of his father's will.
Will Nia be able to pull off her plan of escape with Massimo's millions in tow, or does this infamous playboy have enough charm and passion to tame this little flight bird and keep her nested forever in his Nido d'Amore?
First Kiss –
Massimo finally pulled off the highway and started a climb up a steep paved road.  A thick white forest with branches bowing laboriously from the weight of snow encased them.  After a few minutes, he made another turn and drove along a somewhat level road that took them further into the mountain.  A wrought-iron gate opened automatically as they approached it then closed behind them.
A cold shiver raced up Nia's spine.  She felt like she'd just driven through the gates of hell with Satan at the helm.  A flicker of real fear coursed through her veins as the gross enormity of what she had done took a heavy toll on her senses.
"Too late," Massimo said as they rounded a corner and reached a small plateau that overlooked deep ravines and a labyrinth of lakes in the distance.  He stopped the Mercedes, applied the parking brake, and unbuckled his seatbelt.
The sensual look in his eyes was unmistakable.  As much as she resented him, Nia knew that if he touched her, she would instantly dissolve like a snowball on a hot tin roof.
"Come, Nia.  I wish to taste you, now."
"Massimo, we haven't even had a date yet, and I don't kiss on the first date."Niaforced humor into her voice, but the quaking of her body belied the fear and desire she felt deep in her core.
With little effort, Massimo unfastened her seatbelt and pulled her halfway across the seat. "I'm a businessman, Nia.  We made a deal.  In business, it's always wise to sample the goods before the final purchase.  I will sample the goods you offered.  The last thing I need is a scared little kitten in my bed."
"I'm not scared of you," she lied out loud, hoping he couldn't hear the thumping of her heart against her chest.
"Prove it."
He slid closer and Nia almost fainted from the heady smell of male flesh and the hungry glare in his electric blue eyes.  Her gaze dropped to his sexy mouth and she knew he could very well swallow her whole right here, right now.  She licked her lips.  "Massimo, I don't think—"
"Perfect.  I don't want you to think.  Just feel…  me."  He pulled her softly against him.
"Massimo, you promised—"
"Don't fight me, Nia.  Let your body relax and enjoy the call of desire.  It's good practice for next Monday when we seal our little agreement."  He held her chin in his hand, and his mouth came down upon hers, soft and fluttering like a feather.  He brushed his lips against hers then slowly traced his tongue along the outline, causing tiny explosions to erupt from ever pore of her body.
"Aprire la suaboca," he whispered, clasping one hand at the back of her head and tangling his fingers in her hair.  "Avvolgere le bracciaintorno al niocollo."
Nia didn't speak a word of Italian, but somehow she understood him.  Her lips parted, and as his hot tongue swept inside her mouth, Nia wrapped her arms around his neck as he'd ordered.  She clung to him as an invisible fire threatened to consume her, bone, blood, and flesh.  Her heart drummed loudly as she surrendered to the enemy, as lust devoured revenge, and desire robbed her of all logic.
Massimo pulled up her sweater.  His warm hand crawled along her ribcage and his long fingers expertly pulled down the lacy cups of her bra, baring her achy breasts to his touch.
Nia whimpered against his mouth as her nipples tingled and hardened against his smooth palm.  He molded her breasts with skillful fingers, causing an intense yearning in her belly that quickly spread to the core of her throbbing sex.  Moisture collected in her panties.  She squeezed her thighs together to combat the pleasure, but quickly relaxed them when she realized it only intensified the ache.
Yielding to Massimo's seductions was against the rules.  Her body and her mind had betrayed her.  All she could count on now was her heart.  It had to remain impassive to him.  And she didn't think she could trust it.