First Kiss Friday – Yesterday's Promise by Cynthia Owens
Today's First Kiss Friday featured guest is Cynthia Owens, author of historical romance Yesterday's Promise.  Welcome Cynthia!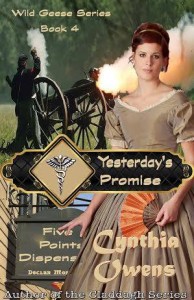 A bit about Yesterday's Promise –
…Like the Wild Geese of Old Ireland, five boys grew to manhood despite hunger, war, and the mean streets of New York…
An army doctor, Declan Morrissey fought for the survival of every wounded soldier, rejoicing when they recovered, mourning bitterly when they died.
Valerie Stanton was his beautiful battlefield nurse, strong, courageous, and dedicated.
He never dreamed she was an heiress, or that she'd break his heart in a desperate gamble to save the life of another man.
Now that they've found each other again, can they overcome past deception and claim the happily ever after they dreamed of?
Yesterday's Promise, Book 4 of The Wild Geese Series.
First Kiss from Yesterday's Promise –
"What does he do to you?"
"Don't!" Valerie shook her head wildly and pushed back her chair. Her entire body began to tremble, her heart raced, and she glanced frantically about the room, desperate to escape. Her throat dried, tears burned behind her eyes. "Please, Declan."
The next thing she knew he was beside her, pulling her to her feet, and a moment later his arms closed around her, her head resting against his shoulder, his hands making soothing circles on her back. "Ah, whisht, now, love. Whisht, now. Sure, I never should have asked, never should have pushed you. 'Tis sorry I am, my darlin' girl." His voice dissolved into roughness, and she cuddled close against his warmth. Oh, how she wished she could absorb some of that warmth, absorb some of Declan.
They stood there for a long moment. Declan murmured soft, soothing endearments in English and what she supposed must be Irish. Oh, his hands felt so wonderful on her back, even through the layers of clothing she wore. His breath stirred the hair at her temple, warmed her, eased her torment as nothing and no one else could.
"Forgive me, darlin'. I never want to hurt you. God help me, all I want to do is see you safe." She pressed closer, feeling the sudden tension in him. "Safe from the world. Safe from your father." His voice roughened. He pulled back just a fraction, framed her face in his hands, and pressed a feather-light kiss to her lips. "I want to be the one to protect you, Valerie." His lips roved over the curve of her cheek. "I've wanted that…wanted you…since that first day at Bull Run." He pulled her closer, closer still, molded her body against his. "Ah, sweet merciful Heaven…Valerie…"
"Declan." She should resist him, but her arms crept up and around his neck, pulling his head down to hers. She shivered as his hands wandered over her heated flesh, bringing her alive as she hadn't been since she'd last been in his arms, kissed him. "Declan, please…"
We can't do this. Not here. Not now. Once, yes, oh, yes. Once we might have loved each other, become one, lived happily ever after. But no more. We mustn't. I'm tied here. I can't leave. Oh, Declan, I love you, but I can never have you.
Even as the words formed themselves in her mind, she stubbornly ignored them. Just a few moments, a few moments in his arms, in his heart. That's all she'd ever ask, and more than she could ever hope for.
Declan heeded her breathless plea. He was helpless to do anything else as she pressed against him, her lithe body warm and alive under his hands. She was so soft, so yielding, her arms clinging tenaciously, holding him to her.
'Twas almost like the time, so long ago, when he'd believed she could be his.
He crushed his mouth to hers. Her soft, moist lips blossomed sweetly under his as she stroked his nape with fingers of fire. He groaned, a shudder of longing racking him, and molded her body to his. "Valerie…ah, blessed St. Patrick, 'tis you're the beautiful woman." He murmured the words against her mouth, teasing her, tasting her with hands and lips and tongue. He heard her soft moan as she shivered against him, her fingers burying themselves in his hair, pulling his mouth back down to hers for another deep, drugging kiss, another and yet another. He couldn't get enough of her. "Sure, a man could drown in you, love, and be happy for it."
Dimly, he heard the sound of a distant clock as it chimed the hour. She stiffened against him. Ah, no! Not yet! Just let me hold her a while longer. Don't let her leave me now.
But before he could catch her, she'd jerked away, her cheeks flushed, her lips red and damp and swollen from his kisses. She stepped away from him. To put distance between them? Or to regain what was left of her usual cool composure?
She faced him squarely, her eyes shuttered, her shoulders rigid. "Declan. We can't. We can't do this. It's over. It's been over for a long time. You must accept it."
Yesterday's Promise will be releasing over the next few weeks. Until then, here's how to contact Cynthia:
Website: http://www.cynthiaowensromancewriter.com/
Facebook: https://www.facebook.com/AuthorCynthiaOwens
Twitter: https://twitter.com/Cynwrites1
Google +: https://plus.google.com/u/0/+CynthiaOwens/posts
Amazon Author Page: http://www.amazon.com/Cynthia-Owens/e/B003DQ1V2E