First Kiss Friday – The Dragon and the DreamWalker by Elizabeth Rose
Today's First Kiss Friday featured guest is Elizabeth Rose, author of paranormal romance The Dragon and The DreamWalker.  Welcome Elizabeth!  The Dragon and The DreamWalker is one of the novels featured in the new boxed set Tall Dark and Medieval!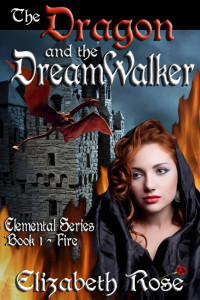 A bit about The Dragon and The DreamWalker –
Drake of Dunsbard saves Brynn from being sacrificed to Dracus, the dragon of Lornoon. He is shocked to see the dragon's fire has not harmed her, and realizes she must be the Lady of Fire that the villagers fear and call a witch.
Brynn has faerie blood running through her veins, and while fire cannot harm her and gives her power, water weakens her and can destroy her. She is thrilled to have been saved by a heroic knight, until she awakes and realizes he has brought her to her late father's castle. She knows at once her savior is none other than the infamous Dragon's Son. The feared man of all, and also the man who stormed her father's castle and claimed it as his own. And while their relationship on the physical plane is rocky, Brynn has the ability to dreamwalk, leave her body in her sleep, and their relationship on the etheric plane is much different indeed.
Can two feared people work together to destroy the dragon, or will they be stopped by their haunting pasts as they realize they really fear themselves?
First Kiss in The Dragon and the DreamWalker –
Drake turned slowly back toward her, and by the look on his face, she knew every ounce of his energy had been spent.
Her own realization of just how much he needed her had her backing closer to the fire for strength. She could see it in his eyes. Like a lost soul crying out for help before giving up to defeat, he silently cried out to her, and a part of her wanted nothing more than to take his hand and tell him everything would be all right. Oddly enough, she felt as if she cared for him. She could no longer deny it. She'd looked inside her heart just like Juturna had told her, and saw that what the old woman said was true. Somehow, some way, she felt their meeting was planned from the start.
They stood silently, looking at each other for what seemed like eternity, the fire behind her giving her the strength she needed to face her unspoken confession of attraction. His eyes drank her in, and she felt his gaze heating her body, hotter and hotter.
Then he opened his mouth as if to say something, but his eyes opened wide instead. He ran to her and her heart leapt. He picked up the coverlet on the way, and throwing it around her, knocked her down and rolled atop her upon the floor.
"Get off of me," she commanded, hitting him with her fists, wondering why he'd done this. Mayhap he was no better than Calais, being vulgar and wanting to mate right on the floor.
"You're on fire!" he told her, holding her tightly, rolling around the floor with her to put out the flames that indeed had caught her skirt ablaze when she backed too close to the hearth.
With the flames extinguished, he lay atop her, his arms supporting his weight from crushing her. His face was alarmingly close to hers, his hair hanging down and brushing her cheek. She trembled as her body vibrated from his touch.
He didn't say anything, but his eyes rested on her lips as he brought his mouth daringly closer. She lifted her chin to meet him, closing her eyes as their lips touched. His kiss warmed her down to her belly. She was in a dangerous position, being kissed by The Dragon, but was unable to stop herself from opening her mouth as his tongue entered. She let him in, welcomed The Dragon into her mouth, reveling in the taste of this warrior man invading her with his strength and claiming her as his own. He reached out to run his finger softly against her cheek and she found herself wanting him to run his fingers over the rest of her body as well.
Website: Http://elizabethrosenovels.com