First Kiss Friday – The Sheik's Spy by Gemma Juliana
Today's First Kiss Friday featured guest is Gemma Juliana, author of contemporary romance The Sheik's Spy.  Welcome Gemma!  Here's the first kiss between Olympia Green and Sheikh Adnan of Zahiria.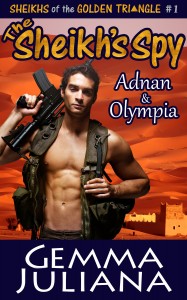 He came around his desk to meet her. Placing his hands on her arms, his eyes held hers captive. He moved closer and planted a lingering kiss on her right cheek and then her left.
"Thank you," his voice was husky, and as he leaned in slightly, she tilted her lips upwards just enough to invite him to kiss them as well.
The kiss was warm and probing, and Olympia's lips parted as his tongue explored hers. He pulled her closer, and she felt hardness against her belly that left no question about his state of arousal.
A sense of empowerment flooded through her. This incredible man was attracted to her. A charged current sizzled back and forth between them, fueling their desire as it escalated.
Olympia's senses reeled from the exotic scent of him, a deep blend of pine and leather, combined with his own musk. A gnawing need started to percolate in her blood. Her arms tingled where his hands held her, and she felt her cheeks explode in a burst of bright color. The intensity ended as swiftly as it began, before she could consider kissing him back, or placing her hands on his body.
"Thank you for what?" Fighting every urge in her body she pulled away. Her fingers went to her pulsing lips, then to her hot cheeks.
"You've saved my life and my honor. Most important, you saved my kingdom from being hijacked by thieving enemies." His eyes glittered like black diamonds, his mouth promised even greater pleasures. "I'd take you for a walk in my private garden but we're on high alert."