First Kiss Friday – Project Homecoming by Jackie Leigh Allen
Today's First Kiss Friday featured guest is Jackie Leigh Allen, author of contemporary romance Project Homecoming.  Welcome Jackie!  Here's the first kiss between Brian O'Neill and Nat Rodriguez.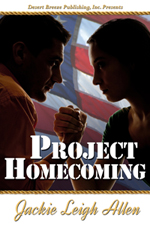 The dance came to an end too soon. The lights went up and people started to leave.
"Great party," Mrs. Andrews said. "You'll be hearing from us."
"Yes," Mr. Anderson added. "From the enthusiasm of your clients tonight, I can see you're going to get great things done with them."
"It's all thanks to Nat. This was her idea," Brian said.
A blush rose in her cheeks, and her eyes danced with excitement.
"I had a lot of help from everyone, including Brian."
She squeezed his hand and he held onto hers, liking the warmth, the togetherness.
They said good night to the Fishers, Win and Emily, and Win's grandfather.
"You throw a lovely party. We look forward to more." The new Mrs. Winston looked up at Win's grandfather with a twinkle in her eye.
Snipe and Heather came by, carrying equipment.
"Let me help you with that," Brian said.
"Oh, no you don't," Larry said, coming up to take Heather's load. "We'll clean everything up. You two go on home."
Brian looked at Nat. "Shall we let them?"
"I'm all for it."
He held her jacket, smoothing it over her shoulders, letting his hands absorb her heat for a moment then followed her to the door. Seated in the Porsche he hit his classical music station and Clair de Lune tinkled out. "Not much moonlight tonight, so it's good we have the song. What's your kind of music besides dance music?"
"I do like salsa. Sometimes I sing along with Celia Cruz, but this is good, too."
"It was a great evening, wasn't it?"
He glanced her way at a red light and watched a smile spread across her face.
"Great. Everyone had a good time. Everyone felt part of the success."
He walked her to the door, took the key from her and opened it. She looked up.
"Thanks for driving."
He almost drowned in her chocolate eyes. A happy death, but not one he was ready for.
He dropped her key on the table by the door and took her head in his hands. His lips were on hers before he could think this was a bad idea and when he touched her soft, giving lips, the time for thinking was over. He ran his tongue along the seam of her lips and she opened her mouth. He tasted chocolate and spice that must be Nat's own. A spurt of energy went straight from his lips to his groin. He held her for a moment longer then stepped back.
"Good night," she whispered.
"A very good night."