First Kiss Friday – Little Witch (Evolution Series) by Jill Hughey
Today's First Kiss Friday featured guest is Jill Hughey, author of historical romance Little Witch (Evolution Series).  Welcome back Jill!  Here's the first kiss between Salena and Nox.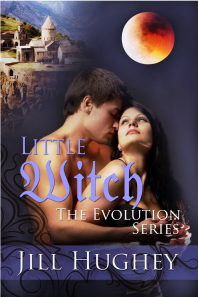 Little Witch: Historical Romance Novella, the fifth story in the Evolution Series, by Jill Hughey
FIRST KISS EXCERPT
"You are the first person outside my family who has believed in me," she said, her voice sounding meek after his proclamation. "Thank you."
"Do not give me too much credit. I did think about it for awhile."
She liked his honesty. "Well, then, I am glad you have seen enough of the world to make your own decision. I envy you that." After a few more steps, she asked, "What is it like to travel the countryside?"
"That depends very much on the weather. Wet. Cold. Hot. Windy."
"How many people do you know?"
"I have never counted," he said as they came to a stop at the door.
She searched his face. "Why won't you talk about your life? You know the worst things about me so you certainly shouldn't fear I will find something lacking in you."
He sighed raggedly. "I keep to myself."
"I know. But you have to trust somebody, some day."
"I do?" The words were uttered as a challenge yet his mouth looked soft above that clever cleft in his chin, his eyes a shining enticement.
She leaned toward him then lowered her head shyly, the thrum of attraction muddling her thoughts. He put a finger under her chin to make her look at him again.
"The things you consider to be the worst about you are some of my favorites." He slid his finger up to trace her eyebrow. "You told me the last time I was here that you think your eyes are hideous. I think they are beautiful."
Before she could argue, he leaned down to kiss her, his lips testing lightly, giving her every opportunity to pull away if she wished. She did not, instead sidling closer, the draw toward him intensifying. His hand slipped to her hip. He settled his mouth more decisively on hers, the warm pressure sending tingles through her. Without thinking, she caressed his arm, moving upward until she grasped his shoulder, while her other hand settled on his waist. Oh, the feel of him, the possessiveness that engulfed her as she invaded the space between his cloak and tunic, finding lean cords of muscle despite the barrier of fabric and feeling the male heat pulsing off of him. To touch such a man and have him touching her ignited an emotion she had not known she was capable of.
He tugged her flat against him with a startling jerk. She pulled her head back, surprised by the motion, and more, by a hint of devilment in his eyes.
He ran his thumb along her jaw. "Look at that," he murmured. "There is something other than anger that makes your lovely eyes glow." He kissed her again, more needy, both of them becoming voracious as they pressed together, leg to leg, breast to chest.
His tongue traced the seam of her lips and she opened for him, shocked and excited by his touch. Their surroundings disappeared. She forgot where she was even as he crushed her against her own front door, his knees straddling her legs to gain as much contact as he could through the clothing still separating them. One of his hands palmed her bottom. Her arms wrapped around his neck, making her breasts rub against his chest.
He pulled his mouth away. After a stunned moment she opened her eyes again.
END OF EXCERPT
Little Witch: Historical Romance Novella is available from Amazon at http://www.amazon.com/dp/B00EUA1TI8
Jill Hughey is on Facebook, blogs at http://jillhughey.blogspot.com, and tweets @jillhughey