First Kiss Friday – Murder Most Foul by JoAnne Myers
Today's First Kiss Friday featured guest is JoAnne Myers, author of contemporary romance Murder Most Foul.  Welcome JoAnne!  Here's the first kiss between Jackie Reeves and Walker Harmon.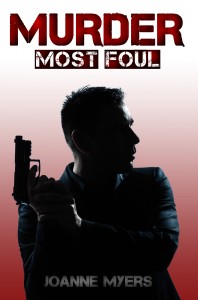 Smiling, while descending the staircase in her white satin pajamas, she said, "I can't sleep, anyway. I prepared dinner, but the food is cold and the beer is warm."
Dropping wearily into an overstuffed chair, he pulled Jackie onto his lap. He nuzzled her neck, stroked her arms, then her long, slim legs, and whispered, "As soon as I solve this case, I'll treat you to a five-course meal. I swore off love when I became a Federal Agent, but, honey, I can't leave town without you."

Kissing more and more passionately, they drifted into lovemaking for the first time.