First Kiss Friday – The Nightclub by Lynette Sofras
Today's First Kiss Friday featured guest is Lynette Sofras, author of contemporary romance The Nightclub.  Welcome Lynette!  Here's the first kiss between Laura Hamilton and Julian.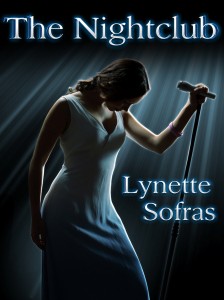 He held both her arms and moved her gently away from him to survey her face. "That's what you were telling me about the other night, when all this started?   Oh my god, how could I not see that?   Everything just…"
She nodded and more tears spilled from underneath her eyelashes. "It's alright. This is the best part, being able to tell someone at last and know they understand. This almost makes everything else worth it."
He drew her back up close and kissed her, fiercely, passionately, as no one had ever kissed her before. He kissed her as she'd imagined him doing while lying in her bed, trying to conquer her fear of being touched by another man. With all her being she wanted to love and feel loved, to believe it possible to share something beautiful and tender with another person, but had never believed it could happen, not to her. A part of her had hungered for this contact, just as that other part rejected it, putting up barriers of resistance. Now she began to feel herself responding, kissing him back, and just for a moment it felt good, but not for long as the old panic washed over her like a tidal wave. The terrible conflict surged up from that deep, black pit inside of her, and she struggled against him; yet when he released her, the sensation she felt was almost like pain and she moaned at the separation.
"I'm so sorry… I'm just…"
"Shhh, it's my fault for rushing you. I shouldn't have done that. I'm sorry." He held her face in both hands, combing his fingers through her hair and preventing further speech by kissing her eyes, her nose, all over her face and again, brushing her lips, this time very gently, barely touching, just a soft scattering of little caresses like the lightest flutter of butterfly wings. And she began to relax and enjoy the experience, even managed to reciprocate with her own light kisses when his lips came close.