First Kiss Friday – The Bull Rider's Keeper by Lynn Cahoon
Today's First Kiss Friday featured guest is Lynn Cahoon, author of contemporary romance The Bull Rider's Keeper.  Welcome back Lynn!  Here's the first kiss between Taylor DeMarco and Jesse Sullivan.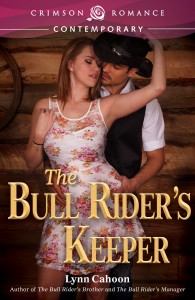 "Three or four time bull riding champion? Now working on owning an art galleryalong with what, one or two working ranches?" Taylor sipped on her drink. "Sounds like a complete failure to me."
"Look past the trappings. My brother is married to his high school sweetheart with three kids now. My manager just found her soulmate, even though she had to marry the guy twice to realize it." Jesse wadded his own wrappings up, leaned back, and shot. The paper landed gracefully inside the paper bag. "And I don't own a speck of land. The place I stay at in Boise is my brother's. Tell me, who's the loser?"
"Then get married. Have baby bull riders. There must be a lot of women out there wanting to play that role." Taylor rolled her eyes. "Like Amanda."
"I think our taxi driver has his heart set on little Miss Amanda. I wonder if she knows it yet." He chuckled. "But you're right; there are plenty of women who want to 'play' the part." He used air quotes to emphasize his words.
"You don't know who you'll fall in love with until you try."
He shook his head. "Now, I think you're wrong there. You can't try to be in love. Either it happens, or it doesn't. Believe me, I've tried out a lot of women."
"You sound like a man whore." She laughed.
"I probably was." He stared at her face, noticing the curve that he'd tried so hard to capture that day in class. No, he hadn't ever been in love. Not before. Now all he could do was think about her. Make excuses to be with her. Even now, sitting so close to her, a bed within arm's reach, all he wanted to do was reach out and touch her face. To let his fingers trace the curve that had eluded him as he tried to sketch her.
"Now you want true love?" she asked, her voice breathless.
"Would you believe me if I said yes?" Jesse touched her hand, one finger caressing the open palm.
"Tonight? I'd believe you if you told me you were Elvis reincarnated." She smiled and leaned forward, kissing him over the table, her lips so soft, but so needy. His head swam in images. Taylor laughing at the opening, her thoughtful gaze during the visit to the artist, the wind blowing through her hair on the drive here. Taylor. Something clicked in the back of his mind as if he'd been looking for her all his life. He pulled her closer, wanting more. The smell of cinnamon alcohol broke through the spell.