First Kiss Friday – Dragon Knight's Medallion by Mary Morgan
Today's First Kiss Friday featured guest is Mary Morgan, author of medieval romance Dragon Knight's Medallion.  Welcome back Mary!  We are incredibly lucky to have Mary here today on the release day of Dragon Knight's Medallion!  Here's the first kiss between Stephen Mackay and Aileen Kerrigan.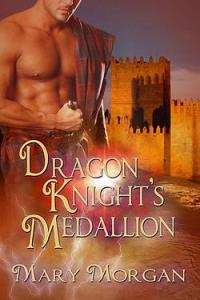 Stephen was gathering some food, which Betha had prepared for him understanding he would be away all night. She and Donal had pleaded with him to join in the feasting, but he waved them off rather rudely. He wanted no part of the festivities.
Almost colliding with a couple, he swore softly. Placing the food across Grian, he shifted hesitantly. It was then he spotted…her.
His hand froze on the leather sack. Sweet Mother! What was she doing? And dressed like that? She was a Goddess of the flame. He watched as she was swung up into the air by none other than Brian. Then he dared to slide her down against him.
Dark fury burst somewhere deep inside Stephen. "I'm going to kill him," he rasped out.
The blood roared in his head, as he stormed across the open field, never hearing those who greeted him in passing—one hand held firm against his sword. He slowed his pace and Stephen waited as any warrior would. Let the enemy show himself, he thought.
When their dancing brought them nearer to him, he darted in front blocking their path.
They never saw him coming.
Aileen's back slammed into his chest, and his arms grasped her instantly in a firm grip. "Hey, ouch!" She tried to move, but he held her solid against his body.
Brian skidded to a halt. "Greetings, Sir Stephen." He went to grab for Aileen's hand, when Stephen let out a growl of warning.
"What is your problem? Did you just growl?" demanded Aileen. She tried to pry herself loose, but he continued to hold her firm.
"Mine," he snarled.
Instantly, Brian's face went white. "Thank ye for the dance, Lady Aileen," Brian clipped out. Giving Stephen a curt nod, he stomped away.
"Bloody. God. Damn. Hell," Aileen snapped.
Stephen released her, only spinning her around to face him. Something primal within him tore loose. He tried to reason with himself that this was insanity, though his mind and body wouldn't yield. His gaze dropped to those lips—lips he had fantasized about for weeks.
"Aileen," he choked out before his mouth took hers in a plundering kiss. His lips moved over hers devouring their softness. The kiss became urgent, pleading in its need. His tongue sought hers, and the dance of desire seared their bodies. Raw passion took over his anger, and she opened fully, drawing him against her body. She took her hands and wrapped them around his head, threading her fingers in his locks and pulling him in deeper. Never in all of his life had he felt so right in someone's arms.
When he broke from the kiss, his breathing was labored. Her eyes were dark with desire for him, and he shook with such need, it frightened him.
"By the hounds," he uttered hoarsely. In one swift move, he picked her up. Carrying her to his horse, he ignored the hoots and remarks coming from the crowd. Placing her on Grian, he swung around in back, taking off through a large group of oak trees with only one clear thought in mind.
Amazon: http://www.amazon.com/Dragon-Knights-Medallion-Order-Book-ebook/dp/B00P81C0EA/ref=sr_1_1?ie=UTF8&qid=1415147640&sr=8-1&keywords=Dragon+Knight%27s+Medallion
Website: http://www.marymorganauthor.com