First Kiss Friday – A Masterpiece of Our Love by Nikki Lynn Barrett
Today's First Kiss Friday featured guest is Nikki Lynn Barrett, author of contemporary romance A Masterpiece of Our Love.  Welcome back Nikki!  Here's the first kiss between Becca and Hunter.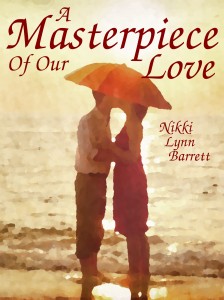 Book Blurb:
Two Lives Torn by tragedy.
Eight-year-old Becca and twelve-year-old Hunter cling to each other and life after surviving a plane crash which stole their families.
Two Souls Seeking Love.
Each year, from the time she was old enough to travel on her own, Becca met up with Hunter on the island that altered their lives forever.
Until he stopped showing.
Her constant. Her link to the past. Gone in the blink of an eye.
Two Lives Bound by Secret.
Suffering more heartbreak, Hunter returns to the one place he's always sought comfort, the island where he and Becca met. It was the place that stole from him, and in the same instance gave to him. He hasn't been back or spoken to Becca in four years.
Though he's sure she must hate him for disappearing, Hunter discovers the girl gone, now a woman in her place. Hunter is determined to prove to Becca he isn't the same twelve-year-old boy of yesteryear.
But someone isn't happy about their reunion…
Strange things begin happening. Letters start showing up in their hotel rooms and at home with cryptic messages.
Two Broken Hearts Heal as One.
With the mystery unsolved, Hunter convinces Becca to spend the remainder of the summer back home with him, both for safety and to give them a chance to discover the adults they've now become.
Will love get a chance to blossom, or will the past come back and tear the masterpiece of their love apart once and for all?
Scene set up:
Becca and Hunter are taking shelter in a cabin on a small island after a mishap with their boat and a surprise storm. Because of Becca's brain trauma, there are times she's not able to speak, so she uses sign language. This kiss scene happens the night they are waiting out the storm.
Excerpt:
Becca took his hands in hers, giving them a squeeze. She opened her mouth, hoping the words would come out this time. All that happened were a few squeaks. She stomped her foot in frustration.
Hunter pulled her in his arms again. She leaned against him and soaked in his warmth.
"Don't try to force the words if they won't come," he pleaded softly. Hunter was one of the only people to be so patient with her. When this happened the first time, the only time it had lasted years, her grandparents had yelled, cursed, and belittled her for it. The therapists, doctors, teachers, everyone had made such a fuss about it. She ended up feeling less of herself when she really had been trying. Did they really think she wanted to be like that? To have a lack of communication? Nobody got it.
Except Hunter.
Tears sprung in her eyes at the memories and she held Hunter even closer. She was content there. She was so glad he came back this year. Despite the few years separation from her friend, she felt right at home with him.
At her sniffle, Hunter tipped her chin up. "You are crying! Aw Bec, why the tears?"
"I think my emotions are going haywire. I'm tired, so I'm a little weepy. I'm so glad you're back this year." When she finished signing, his lips curled up in a smile.
"So am I," he whispered softly. Something in his eyes that resembled longing tugged at her. His hands were still touching her face. He inched closer and parted his lips. Without thinking, Becca reacted. They met midway, his lips crashing over hers. Her thoughts ran a million miles a minute. Did he start this, or did she? What were they doing? No matter how much she wanted this, the last time they almost kissed, he disappeared.
It wasn't about you. You know this!
It didn't matter.
She uttered a sound when he deepened the kiss.
His kisses were passionate. So tender. Loving. Inquiring. He drew her closer, tightening his strong hold on her. He held on like he never wanted to let go. A sound escaped his lips, but he didn't stop. Her heartbeat sped up. She placed a hand on Hunter's shoulder, then slid it around his neck, running her fingers through his hair. She opened her eyes for a brief second and devoured the sight of Hunter. Then she closed them again, leaning into him. His tongue toyed with her, teasing playfully.
Another loud crack of thunder startled them both. Like kids being caught doing something they shouldn't, Hunter and Becca pulled apart.
She let out a breath and covered her chest with her hand. She blinked. Hunter stared intently at her.
"I have no idea what came over me. Please know I never meant for that to happen. I don't want you to think-"
She put a finger to her lips, then started signing. "I'm not sure what that was about, but I'm not complaining. I don't think anything bad of you. I never have, and I never will."
Was that a look of relief?
Did he even remember four years ago? Or was she the only one that replayed that week in her mind? She had been the one to turn her head, and even now she couldn't recall if she'd done it on purpose or not.
"That was an amazing, electrifying kiss. I just don't know where it came from." He shook his head. He seemed irritated with himself. She doubted any words would make him feel better right now.
Becca leaned closer and touched his cheek, guiding him to look at her. "I don't ever remember you being so hard on yourself before."
"I know. Honestly, you're the one person I trust. I know you understand me, especially with everything. I just don't want you to think I'm taking advantage of that. I can't lose our friendship, Becca. I know in the past few years I haven't shown it, but you mean the world to me."
"Rest assured, you didn't take advantage. I'll always be here for you." Another yawn escaped her and she grinned sheepishly.
Links
Goodreads:
https://www.goodreads.com/book/show/18690120-a-masterpiece-of-our-love
Amazon:
http://www.amazon.com/gp/product/B00J2QO8Y2
B&N
http://www.barnesandnoble.com/w/a-masterpiece-of-our-love-nikki-lynn-barrett/1118929164?ean=2940149365722