First Kiss Friday – Baby Stetson (Love and Music in Texas) by Nikki Barrett
Today's First Kiss Friday featured guest is Nikki Lynn Barrett, author of contemporary romance Baby Stetson (Love and Music in Texas).  Welcome Nikki!  Here's the first kiss between Avery Callimer and Lucas Bennett.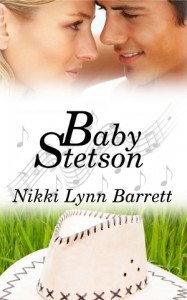 "Wow.  This is a nice kitchen," Lucas said, closing the door behind him.
Avery faced him.  "You like to cook?"
"Oh yeah.  I learned at a young age that I had to take care of myself, so I taught myself to cook.  Now it's something I enjoy."
"Are you good at it?"
"I'm good at a lot of things, Avery."  Lucas closed the gap between them.
Too close, too close!
She couldn't back up anymore, though.  Behind her was the counter.  Her back was already pressed up against it.  Lucas looked at her like he wanted to devour her.
"Lucas…"
"I know I need to stay away from you, Avery.  All I want is one kiss.  I've got to taste you.  Tell me no, right now, and I'll back away."
Lucas pressed his body to hers.  He slid his arms around her waist, pulling her to him.  His face, only inches from hers, lowered.  "Tell me now, Avery.  Because if you don't, I'm going to kiss you."
Don't!  No!  Yes!  Do it!  No!
She couldn't get the words out.  All she could think about were Lucas's lips, mere inches from hers, sexy, tempting, inviting.  Avery opened her mouth to say something, but no words came out.
"I'm not supposed to be so attracted to you, Avery," Lucas whispered, then his lips crashed down on hers.
He cupped her face, pulling her into his kiss.  She didn't even have time to decipher what that comment meant.  Avery tilted her head upward, responding to his kiss.  She wrapped her arms around his broad shoulders as her fingers dug into them.  Holy hell, this  man  could  kiss.  The  deep  urgency  of  his kisses drove her mad.
"Lucas," she muttered against his lips.  His touch was lethal.  It wasn't supposed to feel this good.  Or amazing.  Or sensational.  Avery wasn't supposed to react to him this way.  She didn't even know this man!  Oh, but she knew his gaze, so intent on her, and she was fixated on him.
"Yes, Avery?"
He trailed kisses along her neck now.  Desire burned within, igniting quickly.  His lips were back on hers now.  He darted his tongue out, touching the corners of Avery's lips, pushing his way in gently.  Avery opened for him, needing another taste.  Lucas's erection pressed into her, only making her want him more.  She lost all senses, other than to kiss him.  Lucas hoisted her up, still pressing her against the counter.  Avery squealed and wrapped her legs around him.  More fiery kisses came next.  His tongue was gentle, daring, inquiring. "Avery."  He moaned against her lips, nipping lightly.  "I want to take you to-"
They broke apart as the sound of loud voices neared.  Lucas put her down quickly and backed away from her.
"Oh shit."  Avery giggled, heart thundering in her chest, and blood roaring in her ears.  That was close.  Had anyone come in to see them, especially her parents … she'd never live it down.  Need pooled within her, but the distraction was probably a good thing, otherwise she didn't know what would have happened next.  She could almost picture what they might have-  No, no.  She wouldn't have let things go that far, not here!
The fact that she had to convince herself of that meant that she very well might have given herself to Lucas, right then and there.  What was wrong with her?  She never lost that much sense, not for anything or anyone.
Emotions heightened, she fidgeted with her hair, smoothing it back and straightening her clothes as if nothing happened.  Lucas still stared at her, that look of lust in his eyes, and smiled.  "Well, that was fun," he teased.  If he was trying to ease the tension, it worked.  Avery laughed out loud.  Inside, she wasn't.  How could she lose control like that?