First Kiss Friday – Arouse by Nina Lane
Today's First Kiss Friday featured guest is Nina Lane, author of erotic romance Arouse, the first book in the Spiral of Bliss series.  Welcome Nina!  Here's the first kiss between Olivia Winter and Professor Dean West.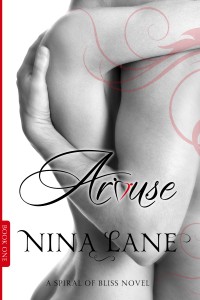 After dinner, we had coffee and shared a sinfully rich chocolate torte. He took a couple of bites, then sat back and watched me. Warm tension tightened my belly. I swiped a dollop of chocolate from my lower lip.
"You, ah… you look at me a lot," I remarked.
"You're very pretty."
I didn't know about that, but the compliment poured through me like honey. "I like the way you look too."
That was an understatement. One glance at him and I went all hot and fluttery inside.
He leaned forward, resting an elbow on the table. Curiosity and heat simmered in his expression.
"What is it about you, Olivia?" he asked.
"What do you mean?"
"Why are you so sweet and determined and guarded all at once?"
"I didn't know I was all those things."
"You are. Why?"
I shrugged and sank my fork into the torte again. If I was eating, I couldn't talk much. "This is really good."
Dean's mouth twitched with a smile, but his eyes were still curious as he sat back again. He continued watching me as I polished off the torte and scraped the plate clean.
By the time he paid the bill and retrieved our coats, I'd realized the danger of Professor Dean West. If I let him, he would slide right past all my defenses. No one had ever done that before.
We went outside into the cold. He didn't touch me. This time, though, I wanted him to. I nudged his elbow. He looked at me, then extended his arm and waited. I moved closer, falling into step beside him as we walked back to State Street.
It felt exactly the way I'd imagined it would, pressed to his side with his body heat flowing into me and his arm strong and tight around my shoulders. I fit against him like a puzzle piece locking into place.
"Where do you live?" he asked.
"Off Dayton Street, not far from the Kohl Center. I walked."
"Next time I'll pick you up."
My pulse leapt at the idea that there would be a next time.
"And this time," Dean said, "I'll drive you home. I'm parked by the museum."
When we reached the parking lot, he unlocked the door of a black sedan and ushered me inside before getting into the driver's seat. I told him my address, and we fell silent on the short ride home. The buildings of downtown passed by in a blur of light and shadows.
When he pulled up in front of my apartment, my damned nerves got tense again. I fumbled around collecting my bag and buttoning my coat.
"So, thank you," I said. "That was really nice."
"Yes, it was. Thank you too."
I took hold of the door handle. "I'll just…"
"Olivia."
I turned to face him. His eyes glittered in the light of the streetlamps. He reached out slowly, as if he were trying not to startle a kitten, and curled his hand around my wrist.
His touch spiraled heat into my blood, igniting flashes of unbearably intimate thoughts—me in his arms, his lips sliding over my throat, his hands on my bare breasts. The air grew hot, compressed.
"I'm going to kiss you now," Dean said.
My heart crashed against my chest, and a hard tremble swept through me. I parted my lips to draw in a breath.
"I… okay."
He leaned across the console and lifted his hands to cup my face. His touch was gentle, still cautious, but the heat brewing in his eyes left me in no doubt as to his desire. We were closer than we'd ever been before, so close that I could see the darker ring of brown surrounding his irises.
For a moment, we just stared at each other. Then his hands tightened on me as he lowered his mouth to mine. And the world fell away the instant our lips touched.
***
AROUSE: A SPIRAL OF BLISS NOVEL is available now at Amazon:
Visit Nina at http://www.ninalane.com