First Kiss Friday – Nothing But Trouble by Lisa Mondello
Today's First Kiss Friday featured guest is Lisa Mondello, author of contemporary romance Nothing But Trouble.  Welcome Lisa!  Here's the first kiss between Stoney Buxton and Melanie Summers.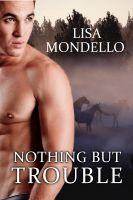 "All this time I thought you were acting this way because you hated me," she said quietly.
He rolled his eyes and gave a wry laugh. "I don't hate you. My Lord, Melanie, this would be a hell of a lot easier if I did."
Her eyes widened. "Then what? What has all this between us been about?"
He shook his head. "Don't go there. Just leave it alone."
"Why? If we're going to be in each other's back pockets for the next month, we need to get this out in the open."
"Some things are better left unsaid."
"I don't want to go on the way we've been."
"Neither do I."
"Then what do you want?"
He was so close, she could almost feel the heat of his body. His breath misted in the cold night air as he spoke. He reached up and touched her cheek, muttering an oath under his breath. With one swift movement, he pulled her to him, crushing her body against his rock hard chest. She felt his fingers curl into the soft flesh of her upper arms as his mouth came down over hers with a white hot intensity.
His kiss held an urgency, built of the frustration that plagued both of them since they met.
She realized then that her attraction to Stoney was much more than simple lust. There was strength to Stoney that pulled her to him like a magnet. He dropped his hands to her waist and circled one arm around her, pulling her to him until she felt how tight andhard his body was with need. Heat coiled inside her and raced through each and everyinch of her being. He drove his tongue deep inside her mouth and out again, teasing her,tantalizing her until a soft moan escaped her lips.
"You're driving me crazy," he whispered against her ear. His shallow breaths were hot against her cool skin. "How can I be this close to you and not want you as much as I do?"
His deep breath expanded his chest until it pressed firmly against her breasts, causing her nipples to respond by tightening into tiny little buds. She wanted to curl into the circle of his arms and never leave. The loneliness she'd felt just a few short moments ago became a distant memory. In his arms, nothing could touch her.
"You have a funny way of showing it." She didn't want to let him go. It was as if everything they'd been through was meant to lead up to this moment, when she was in his arms. She reached up and laced her fingers together behind his neck. She wanted his mouth on hers again. And she wanted so much more.
Abruptly he pulled away and dropped his arms stiffly by his side, turning his eyes toward the fire.
"It's no good. I'm not what you're looking for, Melanie."
"You don't know anything about what I'm looking for."
He backed away a few steps as if needing the distance for himself as much as for her.
She immediately felt cold despite the warm fire they were standing by.
"I've met a lot of women on the rodeo circuit. Most of them aren't looking for a lasting relationship with a cowboy. They want the moment. It's a dangerous thing lovin' a cowboy. Expectations last one night, and then you're on to the next rodeo. What I know is that a woman with big dreams like you has expectations for the future. You won't find any with me."
Her head was spinning. How could he be telling her he didn't want her after kissing her the way he had? "Are you always this chivalrous?"
"Right now I'm not feeling very chivalrous and I haven't since the moment you stepped on my ranch."