First Kiss Friday – Caught in Cross Seas by Sharleen Scott
Today's First Kiss Friday featured guest is Sharleen Scott, author of contemporary/mystery romance Caught in Cross Seas.  Welcome Sharleen!  Here's the first kiss between Clay Masterson and Harlie Cates.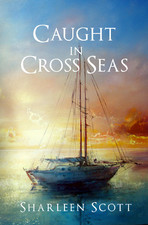 The waiter brought dessert and Harlie returned to her previous topic. "Did I mention I run a food bank and weekly lunch for the impoverished in our area? We're having a tough time of it though. With the economy in a sinkhole, there are fewer donations. We've been the recipient of several food drives over the years. This year we benefited from the mail carriers' food drive, but the need is so great it isn't enough." She took a bite of her chocolate cake. "And to add insult to injury, the senior center says we have to move in a month and we were outbid on the property we want. My challenge now is to find additional funding so I can counter the offer before the deal closes."
Clay nodded and muttered "uh huh" frequently. He admired her dedication to her cause but he also thought she had great eyes. They were big and brown and gave him the impression of gazing into chocolate heaven. And it wasn't just her eyes. Man, what a package. A great body she wasn't afraid to show off and stunning legs. She was everything a woman should be—all sexy curves and soft places. "Uh, huh," he said. "I'll bet the economic crunch makes your job harder." Now, she was telling him another story about several homeless men who died. Professor George was the most recent.
Clay perked up at the mention of a death. "What happened to him? He wasn't murdered, was he?"
Harlie frowned. "Murder? Here in Angel Beach? No. Natural causes the coroner said. It's so sad. They live such hard lives. If I get my new shelter going I can offer others a safe and dry place in the winter. Our storms are brutal. So, we're on the lookout for corporate sponsors or caring individuals who may be willing to help." She smiled and returned to her cake.
Clay relaxed. If his dad was a serial killer, he hadn't found a victim here. His attention was pulled away from Harlie by musicians entering the stage. Two guitarists, a bass player, and a drummer took their places. Clay studied them but could see there wasn't a chance of finding Hunt Masterson among them. They were too young, too short, or too heavyset. Harlie looked at him with stricken eyes.
While Clay and Harlie finished dinner, the band covered a string of country artists including Alan Jackson, Jason Aldean, and Hank Jr. When they settled into a soft Keith Whitley ballad, Harlie tilted her head toward the dance floor and asked Clay to dance. He didn't hesitate to accept. She took his hand and led him to the dance floor, now filling with other couples. She slid into his arms, not shy about the tightness of the embrace as they spun in slow circles. She felt good there, pressed against him. Too good. Thoughts drifted through his mind—spicy thoughts involving Harlie and her sexy red dress. She slipped her hand around his neck and pulled him close. She began with a nibble at the corner of his mouth, teasing and slow. She brushed her lips across his mouth, her warm breath skimming his skin. When she finally laid her lips to his, coherent thought scattered from his brain. The band could have been playing a Souza march for all he knew. He'd stopped listening. His heart's frenzied beat sent blood cascading through his system. He pressed his hand firmly against her, straying lower until his fingers caressed her lower back.
When the song ended, he released her with reluctance and led her back to the table.