First Kiss Friday – Surrender to Honor by Jannine Corti Petska
Today's First Kiss Friday featured guest is Jannine Corti Petska, author of historical romance Surrender to Honor.  Welcome Jannine!  Here's the first kiss between Prima Ranieri and Antonio Massaro.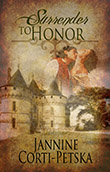 "Think you I would take your head?"
"Sì," Prima replied boldly. Finally, her heart slowed its furious pace. To her misfortune, her senses returned as strong as a battering ram against a castle gate. She flung herself at the arrogant Massaro son, forgetting her legs had been bound for hours. Her knees buckled, and she started to collapse. Antonio caught her with his arm braced across her back and swung her up. She felt him slip his other arm beneath the crook of her knees, capturing her to his body.
"Know you that a soldier does not attack when he is at a disadvantage?"
Prima struggled; regardless that he was nearly twice her size. Worse, she hated herself for liking the coziness he made her feel.
"Save the fight, piccola. You cannot escape me, not as you are, imprisoned in my arms."
His smooth voice lulled her back to a happier time, but she refused to allow herself that same sense of security he had invoked when she was a child and Antonio had been her protector. No longer did she consider him as such, and she'd do well to remember that.
"I am not a woman who craves the comforts of a man."
"A pity that is."
"Put me down. I can stand alone."
"Sì, I believe you can. But I have been long without a woman, and I fear your nearness has set a fire in my loins that will be long in burning out."
"Then I shall find you a bucket of the coldest water."
Antonio rocked with laughter. "Piccola, it would take more than one bucket to extinguish the flames."
An alien warmth covered Prima's body, heating her from the roots of her hair to the ends of her curling toes. It was a different kind of heat, one that began deep in the pit of her belly and spread throughout her entire being. Had she taken leave of her senses? She'd never give in to Antonio's compelling onyx gaze or his ardent voice. She'd not be lured into his trap as had other maidens. Even her cousin Danila had fallen under his spell, believing he would one day marry her. Strange how that memory renewed the jealousy Prima used to feel when Antonio gave his attention to other women.
She rested her head against his shoulder, thicker, firmer than she remembered, but as comfortable as when she'd been a five-year-old child and had fallen asleep in his arms. She felt safe and protected once again, feelings that had eluded her for years, feelings she refused to succumb to only moments ago. Alas, this newfound security was not meant to last. Her nose twitched and tickled, and she suffered another round of sneezing. "In fifteen years you have not outgrown your intolerance to filth and dust."
Prima stiffened her back. Her eyes bore suspiciously into Antonio's. "How long have you known?"
"It matters not."
He shifted his stance, and she feared he would drop her. Prima clung tighter. Then she felt something hard pressing into her hip.
 "You are not the child I once cradled and consoled in these very arms. You are a woman, Prima."
"And you are a briccone."
Antonio grinned. "Is that how you perceive me? Mayhap I should take it as flattery. Agreed, piccola, I am a rogue. But at this very moment, I fear the stench in this dungeon is turning my stomach." He sniffed the air before turning his nose down to sniff closer to her body. "Truly, it is not the dungeon giving off such foul odors."
"Damn briccone." She beat him in earnest, her fists looking small against his broad chest and shoulders.
"Hold, guerrerina. I grow weary of your futile battle. Have you not seen a bath in months? Before you leave this castle, I shall see that you have a clean body, fresh clothes, and—" he squeezed her forearm, seemingly displeased "—a belly full of food."
"I'll not accept a thing from a Massaro."
"The choice is not yours. If you continue to fight me, I shall carry you through the castle upon my shoulder and bathe you myself."
"You would not be so bold!"
"And while you are my guest, you would do best to curb that stinging tongue of yours."
"I'll not!"
He crushed her lips beneath his, silencing her protests. Shock sped like lightning up and down her body, instantly rekindling a fire she shouldn't feel. He pulled back, and she gazed into the lustful sheen in his eyes.
"Briccone," she said on a breathy whisper.
*****
If you would like to subscribe to First Kiss Friday and stay up to date on all of the latest First Kiss Friday excerpts, please enter your email address below: