First Kiss Friday – Tainted Love by Nancy Morse
Today's First Kiss Friday featured guest is Nancy Morse, author of historical paranormal romance Tainted Love.  Welcome back Nancy!  Here's the first kiss between Pru Hightower and Stede Bonham.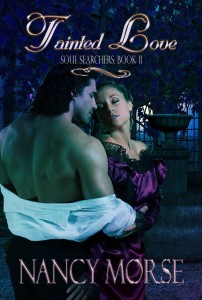 The meeting of the pirate, Stede Bonham, and fledgling vampire Pru, after he is tossed out of The Snapping Turtle tavern and lands at her feet. In return for splashing mud on her dress, he offers to walk her home.
Stede Bonham's first impression of the woman walking beside him was of solemn eyes a dusky shade of blue, like the twilight sky just before night descends, and hair the color of dark ale, the tendrils escaping her bonnet tinted gold beneath the light of the street lamps. Her profile reflected a straight nose, a determined little chin, and lips that were firm and slightly pouted.
There was nothing noticeably strange about her features except for an alluring pallor and a rosy stain on her cheeks. She walked with uncommon grace and an unusually quiet step, her shoes making practically no sound on the damp cobblestones. It seemed almost as if she were floating, a notion no doubt fostered by la fèe verte. The Green Fairy often made him imagine things that weren't there. He blinked his eyes to clear them. She looked innocent and yet not innocent. Fresh and naïve and yet somehow as old as time. She wasn't as starkly beautiful as some of the quadroon girls who strolled the Place d'Armes, with their dark, flirtatious eyes and pecan-colored skin, yet there was something about her that made him steal quick glances at her as they walked. It made him smile.
"I don't even know your name," he said.
She moistened her lips. "My name is Prudence Hightower."
"Such a formal-sounding name. I think I'll call you Pru." He put his hands on her shoulders and pulled her toward him. "And I think I'm going to kiss you."
His mouth came against hers in a kiss that tasted of ale and seduction. She'd known from the first moment she saw his face in the alley that she wanted to be kissed by him. Her hands came up to flatten against his chest, fingers kneading the brocade of his waistcoat like a cat flexing its paws with pleasure. A little sound came from her throat as an aching need welled up within her. It had been so long since she had been kissed like this.
His hands locked behind her, one at the back of her head, holding her mouth prisoner against his, the other with fingers splayed across her back, forcing her closer with gentle pressure until her ample breasts flattened against him. The warm rush of his breath, the thrust of his tongue, the hardness biting into her through his breeches brought back memories of carnal pleasure. No one since Nicolae had kissed her like this and made her feel the raw, pulsing hunger for more.
He bowed his face to the soft curve of her neck and pressed kisses to her flesh while a score of emotions flooded her—joy, passion, hope. She could so easily fall in love with this man whose masculine beauty took her breath away, this pirate who lived by plunder and pillage and yet whose happy-go-lucky nature overrode the dark treachery of his wayward life. With looks like his exerting a natural pull on feminine hearts, she'd be a fool to think there hadn't been other women for him, but that was all right, for there had been other men for her who benefited from Nicolae's artful teachings in the ways of pleasure. But she hadn't felt anything with any of them remotely akin to what she was feeling now with this man. Maybe it was because they shared so much in common—lawless lives, living on the fringes of society, the danger of secrets too deep to reveal.
"Pru." He whispered her name against her flesh, sending an array of goose bumps over her. "Will you let me protect you?"
She stiffened. Gripping his billowing sleeve, she pushed herself away forcibly and retreated several steps away from him. With her back pressed against the wrought-iron fence, she exclaimed, "Why do you think I need protecting?"
A long silence fell between them during which he studied her. She acted brave, and he did believe she was. But behind the bravado he sensed her sadness. Something troubled her, something so deep her blue eyes could not hide it. He lifted his shoulders in a careless shrug. "Who knows? Maybe I'm wrong about you. I just thought—"
"You thought what?" Pru cut in. "That just because I was out tonight alone I am in need of rescuing?" Oh yes, she needed rescuing, but not the kind he was suggesting. It was not her person that needed rescuing, but her soul, and until she found that witch Lienore, there was nothing any man could do to help her. She straightened her back and jut out her chin. "I'll have you know I can take care of myself."
"Excuse me for thinking otherwise." He removed his hat and swept low in a bow. "Good night, Pru."
Her hand fumbled with the gate latch as she watched him walk off into the mist that crawled in from the river. The gate creaked open. She walked up the slate path to the door, her heart fluttering wildly in her breast, caused not by the influx of fresh blood she drank but by the devilish smile and the heated kiss of a common pirate.
https://www.smashwords.com/books/view/442532
http://www.amazon.com/dp/B00KMD5CDU
https://itunes.apple.com/us/book/tainted-love/id883841216?mt=11&uo=4