Medieval Monday! Continuing along with A Knight to Call My Own
Continuing along with A Knight to Call My Own by the gifted Sherry Ewing!
Forgot what the story was about?  Here's the blurb –
When your heart is broken, is love still worth the risk?
Lynet of clan MacLaren knows how it feels to love someone and not have that love returned. After waiting for six long years, she has given up hope of Ian's return. Her brother-in-law, the Devil's Dragon of Berwyck, is tired of waiting for her to choose a husband and has decided a competition for the right to wed Lynet is just the thing his willful charge needs to force her hand.
Ian MacGillivray has returned to Berwyck Castle in search of a bride and who better than the young girl who cared for him all those years ago. But Lynet is anything but an easy conquest and he will need more than charm to win her hand in marriage.
From the English borders to the Highlands of Scotland, the chase is on for who will claim the fair Lynet. The price paid will indeed be high to ensure her safety and even higher to win her love.
***
Continuing from last week –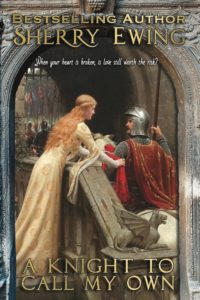 Lynet could no longer gaze on the bloody and ghastly scene afore her. Turning her head, she heard the warrior's body fall to the ground with a loud thump. She swallowed hard in an effort not to lose what little she had in her stomach, knowing the cost for her brief chance at freedom had been a man's life.
Calum returned to her nonchalantly, as though he had not just done something so repulsive, but moments afore. His countenance gave her the impression he would show her no mercy were she to attempt to flee, yet again. Lynet took a deep breath and returned his steady gaze with one of her own, hoping her face showed whatever bit of bravery she still held deep within her. Calum continued glaring at her in silence with those intimidating black eyes of his 'til Lynet could no longer stand to look at him. She turned her head away, refusing to give him the satisfaction of seeing her fear.
Follow along next week by checking out Lane McFarland's blog with excerpt #8 at http://barbarabettis.blogspot.com/
Buy Links:
Amazon  |  Barnes & Noble  |   iBooks  |  Kobo
Authors work hard to bring you these wonderful stories.  Please don't forget to leave a review!