Medieval Monday! First Encounter in Redeeming the Rogue Knight by Elisabeth Hobbes
It's Medieval Monday! Today, I am honored to feature the amazing Elisabeth Hobbes and the excerpt from her novel Redeeming the Rogue Knight.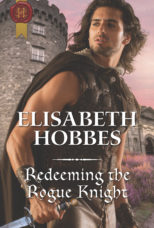 It's about –
The spy who sought refuge…
When injured spy Sir Roger Danby comes asking for shelter at her inn, Lucy Carew is wary. He may be strikingly handsome, but the disgraced single mother has learnt the hard way with men like him. Against her better judgement, she gives him refuge.
Sir Roger has never been at the mercy of a woman before, and he's never met one as mysterious and bewitching as Lucy. He hasn't come looking for redemption, but Lucy is a woman who could reach in and touch his closely guarded heart…
Continuing along with the excerpt –
'What happened?'
'Ambush,' the injured man slurred. 'Don't fear, little dove. We won't hurt you. If you do what we ask.'
'Are you alone?' Thomas raised his sword again and stepped towards Lucy, dragging his companion with him. 'Has anyone else come this evening?'
'No one,' Lucy answered, sweat pooling in her lower back at the sight of the weapon. 'I'm the only one here.'
Except for Robbie. A throb of anxiety welled inside her as she thought of her son lying peacefully in his cot in the room above. A son whose uncle did not know of his existence.
Buy Link: viewBook.at/RogueKnight