Medieval Monday! First Encounter in Highland Redemption by Ceci Giltenan
It's Medieval Monday! Today, I am honored to feature the talented Ceci Giltenan and the excerpt from her novel Highland Redemption.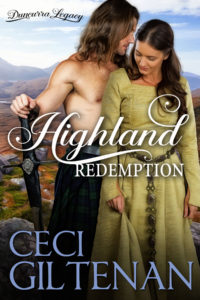 It's about –
Tomas's life changed forever when at the age of seven he was adopted by Laird and Lady Maclan ending the abuse he'd suffered at Ambrose Ruthven's hand. He'd never looked back and never intended to
But fate had other plans…
Now, nineteen years later, he runs headlong into his past. The Ruthvens are in trouble and Tomas is in a position to help them. But can he set aside his hatred for Laird Ruthven for the good of the clan into which he was born?
Fate always adds a twist…
Laird Ruthven's daughter is not what Tomas expected. Vida Ruthven is sweet, smart, and utterly irresistible.
Now, Tomas must choose between being the savior or taking the ultimate revenge.
Continuing along with the excerpt –
Tomas took the pawn from her hand. "White goes first, make your move."
Initially he was distracted, thinking of Moyna. She appeared to recognize him. That she didn't acknowledge it was good. He would have to try and find a way to talk with her. But after the first few less than well thought out moves, Tomas realized he had to focus while playing chess with Vida. He also thought he might have an inkling why no one, especially her father, would play with her—they didn't like to lose. She was exceedingly good and he lost the first game in minutes.
Follow along next week on Ashley York's website: https://www.ashleyyorkauthor.com/blog. Remember to leave a comment for a chance to win an e-copy of Highland Redemption or another e-book of your choice by Ceci Giltenan.
Buy Link: https://www.amazon.com/Highland-Redemption-Duncurra-Legacy-Novel-ebook/dp/B071NL216N