Medieval Monday! A Highland Moon Enchantment by Mary Morgan!
Medieval Monday is here, featuring author's choice.
For this week, please help me welcome Mary Morgan. The continuing excerpt is from her novel, A Highland Moon Enchantment.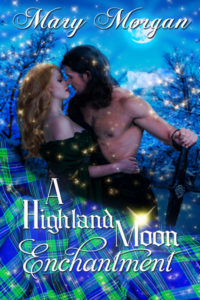 Excerpt –
Desmond stepped away from her. As he held out his hand, his smile was inviting. "May I escort ye inside the hall, my lady?"
Lifting her chin, she complied. As he placed her hand in the crook of his arm, she looked up at his face. "Before we enter, I want to tell ye how fine ye look, Desmond."
His eyes darkened with emotion. She sensed he wanted to say something, but the arrival of the druids at the entrance halted any further conversation. Steering her quickly inside the Great Hall, he led her to the table where her father sat along with the other MacKays and their families.
Follow along on Jenna Jaxon's blog: https://jennajaxon.wordpress.com/ and leave a comment for a chance to win a signed print copy of A HIGHLAND MOON ENCHANTMENT.
What her novel is about –
You first meet this warrior in Dragon Knight's Axe, Order of the Dragon Knights, Book 3 
Irish warrior, Desmond O'Quinlan has never surrendered his heart to any woman. He has no wish to have his soul tortured by love. Yet, the moment he locks gazes with Ailsa, his fate is destined for an adventure he never fathomed. He may have battled alongside a Dragon Knight, but his greatest challenge will come from within his own heart.
Ailsa MacDuff, a warrior among her clan, has no desire to have a man chain her to a life of obedience. However, that is before she meets Desmond. The temptation to allow this warrior inside her heart is a risk she dares to take, but one that could lead to a future of emptiness and sorrow.
When betrayal looms from within, the battleground of love is no match for these two warriors. Can the power of a Highland full moon be strong enough to unite or destroy them?
Buy Links –
AMAZON: https://www.amazon.com/dp/B0767QVJBX/
B&N: https://www.barnesandnoble.com/w/a-highland-moon-enchantment-mary-morgan/1127176325
Apple iBooks: https://itunes.apple.com/us/book/a-highland-moon-enchantment/id1294140045?mt=11
Kobo: https://www.kobo.com/us/en/ebook/a-highland-moon-enchantment
Don't forget to leave a review!