Medieval Monday! The Lady of the Forest by Barbara Bettis
Medieval Monday is here, featuring author's choice.
For this week, please help me welcome Barbara Bettis. The continuing excerpt is from her novel, The Lady of the Forest.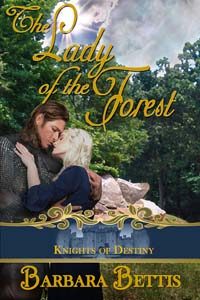 Excerpt –
Yet she'd had no choice but to try to discover the stranger everyone sought. The people who took refuge in the forest these past months were her responsibility, and she couldn't risk their being surprised by the soldiers constantly prowling about. Oh, if Henry'd only come with her, not insisted on continuing to the castle.
She had to consider a way to free him, as well as Oscar. If she sent a message to Windom, Lady Alyss could confirm his identity and send word to Stonehill to free her brother. That meant revealing Kate's existence after months of anonymity. And then she must, as a widow and subject to the crown's control, fulfill the terms of the royal order to wed Sir Mortimer.
Follow along next week at https://jennajaxon.wordpress.com/. Be sure to leave a comment for a chance at an ebook of your choice.
What her novel is about –
He must pursue his enemy; she must protect her people. Can their love survive the duties that drive them apart?
When her elderly husband dies, Lady Katherine fakes her own death and disappears into the forest with others escaping the brutish new lord. Determined to protect her people, she knocks the wrong man senseless. But Lord Henry isn't an enemy, he's the brother of her childhood friend. Although his tender confidence tempts her, she's bound by duty.
Henry of Chauvere has found the one lady he wants for his own, never mind she's tied him hand and foot. When he learns the king has ordered her to wed Stonehill's ruthless new master, he insists Kate seek haven with his sister. But she won't desert her friends. Henry vows to solve her problem, provided he catches a traitor before the threat from Kate's past catches her.
When a daring rescue compels Henry and Kate to join forces, their attraction grows into love. If only duty didn't drive them apart.
Buy Links –
Don't forget to leave a review!