Medieval Monday! Redeeming the Rogue Knight by Elisabeth Hobbes!
Medieval Monday is here, featuring author's choice.
For this week, please help me welcome Elisabeth Hobbes. The continuing excerpt is from her novel, Redeeming the Rogue Knight.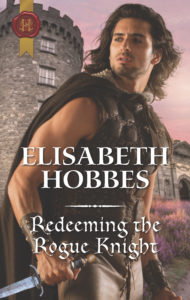 Excerpt –
'You've not even begun yet,' he said harshly, putting his hands on her shoulders and attempting to force her to her knees.
Lucy looked over her shoulder at Roger.
'I told you to leave.' Her words turned to a sob.
Roger stepped forward and tugged her hand from the miller's belt.
'You're leaving with me.'
She wrenched free and ran from the room with her head down.
'Where are you going?' demanded the miller.
Roger bared his teeth in a warning growl to silence the man, then followed.
Follow along next week on Cathy McRae's blog
What her novel is about –
The spy who sought refuge… When injured spy Sir Roger Danby comes asking for shelter at her inn, Lucy Carew is wary. He may be strikingly handsome, but the disgraced single mother has learned the hard way with men like him. Against her better judgment, she gives him refuge. Sir Roger has never been at the mercy of a woman before, and he's never met one as mysterious and bewitching as Lucy. He hasn't come looking for redemption, but Lucy is a woman who could reach in and touch his closely guarded heart…
Buy Links –
Amazon viewBook.at/RogueKnight (this one won't come up as a link for some reason)
Harlequin https://www.harlequin.com/shop/books/9780373299461_redeeming-the-rogue-knight.html
B&N https://www.barnesandnoble.com/w/redeeming-the-rogue-knight-elisabeth-hobbes/1125684149?ean=9781488021688
Book Depository https://www.bookdepository.com/search/Redeeming-the-Rogue-Knight-Elisabeth-Hobbes/9780373299461
Don't forget to leave a review!