Medieval Monday! A Wee Highland Predicament by Ceci Giltenan
Medieval Monday is back! This time around is author's choice.
For this week, please help me welcome Ceci Giltenan. The continuing excerpt is from her novel, A Wee Highland Predicament: A Duncurra Legacy Novel, available for preorder now.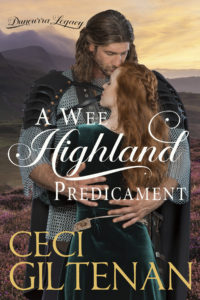 Excerpt –
Lucas made a wide circle around the camp in order to approach the girl from behind. As soon as he reached the tree, he put a hand behind her head and the other over her mouth.
Just as he'd feared, she awoke instantly. Her head snapped back against his right hand as his left hand smothered her cry of alarm.
Follow along next week on Ashley York's website: https://www.ashleyyorkauthor.com/blog. Remember to leave a comment for a chance to win an e-copy of A Wee Highland Predicament, or another e-book of your choice by Ceci Giltenan.
What her novel is about –
Sometimes a bad boy can be a good man.
Lucas Grant's brother is going to be furious. Lucas was supposed to secure a betrothal with a wealthy heiress to save his clan from financial ruin. After meeting her, he cannot marry the detestable woman.
As he flees Edinburgh to escape her, he happens upon six men who are holding a lovely Highland lass captive. He can't just leave her to whatever fate awaits, so he rescues her.
Well, perhaps rescue isn't the right word…
When he learns the feisty lass he stumbled upon is Ailsa MacLennan, he sees another way to help his clan. He's going to hold her for ransom.
But when she steals his heart, what will the ransom be?
Buy Links –
Amazon US https://www.amazon.com/dp/B0799T7KB3
Amazon UK https://www.amazon.co.uk/dp/B0799T7KB3
Amazon Canada https://www.amazon.ca/dp/B0799T7KB3
Amazon Australia https://www.amazon.com.au/dp/B0799T7KB3
Don't forget to leave a review!