First Kiss Friday – The Promise by Dana D'Angelo
Today's First Kiss Friday featured guest is Dana D'Angelo, author of medieval Christmas novella The Promise.  Welcome Dana!  Here's the first kiss between Lady Estella de Leraye and Sir Gavin the Bold.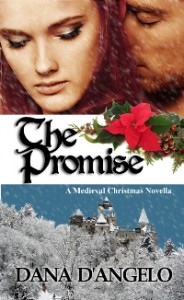 She stared at him as if she had never seen a half naked man before.
And maybe she never did. That thought intrigued him enough to make him pause, although it didn't help matters.
He had never suspected that a woman could drive him mad like this. He tried to ignore it, but there was something about Estella that caused this primal desire to rise. He was sure that it wasn't just lust, although that played a factor. Nay, there was something more and he couldn't quite determine what it was. When he first saw her he had thought she was the least attractive of her sister, but looking at her now, he was wrong, dead wrong. There was intelligence in her eyes, but behind that intelligence was an earthy beauty.
Her long hair, the color of autumn leaves fell around her face, framing a finely structured countenance. Everything about her was delicate, from her pale ivory skin to her bluish green eyes. She had a small, straight nose, high cheek bones and a pointy, stubborn chin. But her lips were wide and generous, and on the rare occasion that he saw her smile, he noticed a dimple appear at the side of her mouth. And even though she was covered in heavy wool, he could imagine the curves on her body. His body pressed against hers too many times for him to overlook the soft curves and how nicely they molded against his.
He raised one eyebrow. "My lady?" he asked.
At the sound of his deep voice, she snapped out of her reverie. "I — I forgot to ask you whether you had soap to wash this grease from my hands," she said, her voice sounding faint. Her eyes landed on his bare chest. The muscles spanned across wide shoulders. Her body tingled with awareness, the memories rushing in to remind her that she was crushed to that same chest only hours before. She swallowed. "'Tis not my intention to disturb your bath."
She stood as still as if she was a fox cornered by a hunter, unable to move even as he came closer. There was no where for her to run, she realized. But did she truly want to run away from Gavin?
When he was a foot away, he reached over and stroked her soft skin, his calloused fingers lingering on her face. "You're a lovely sight to behold," he breathed. "If I'd known better I would think that you're a wood nymph that's come to tempt me." Then taking her chin between his thumb and forefinger, he tilted her face as if to inspect for flaws and finding none.
She pressed a hand to her heart, trying to still the wild fluttering in her chest. His steely blue eyes never left hers. Slowly, he lowered his mouth, his lips barely touching hers. "I wanted to do this for some time now," he whispered. Not waiting for her response, he captured her lips in an intoxicating kiss. And she felt herself reeling at the contact; her bones suddenly turned to liquid as she could no longer support herself. Heat and desire whirled in her body, growing and filling every corner of her being before settling in the juncture between her thighs.
And for once, she wanted to push away all reason and allow herself to savor the sweetness of what he offered.
And it was sweet. His mouth lingered on hers, his tongue sliding over her lips barely tracing it. But that small movement fanned the flames within her loins, and she yearned for more.
Through their own accord, her hands came up and rested flat against his muscular chest, marveling at the strength and power beneath her palms. She let out a sigh and fitted her body to his hardness, giving into the instinctual need to press up against his heat.
And as if he knew what she craved, he deepened the kiss, coaxing, teasing her lips until they parted slightly. And with that small sign of surrender, he took full advantage, driving, pushing his tongue inside, leaving no part of her mouth untouched…