First Kiss Friday – A Member of the Council by Lynn Cahoon
Today's First Kiss Friday featured guest is Lynn Cahoon, author of paranormal romance A Member of the Council.  Welcome Lynn!  Here's the first kiss between Ty Wallace and Parris McCall.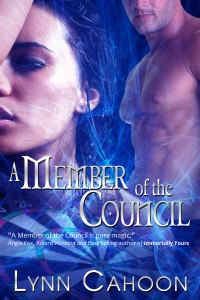 Ty ignored her question, glancing up at her, he took in a breath. The woman wasstunning. Being this close to her, he imagined taking her in his arms, pressing his lips hardagainst hers, tasting wine on her lips. A muscle in his jaw twitched as he tried to banish thevision.He wiped a drop of wine off her full, red lips with his thumb. "Is wishing your opponent loses the secret to your wins? Not very sporting, I have to say."
"You didn't answer my question." Parris' eyes darkened. Ty couldn't tell if her reactionwas based in anger, or desire. He hoped the latter.
"And you didn't answer mine." Twisting in his stool to face her, he opened his legs andwithout thinking, pulled her close and kissed her. A kiss he'd wanted to take since he'd walkedin tonight. Parris didn't resist, in fact, she melted toward him, her mouth hungrily seeking his,her body soft in all the right places, making him hard.
He abandoned her arms, instead caressing her back, strong, muscular. He circled aroundher body to find her breasts, soft and firm. Her mouth slackened as he held the round orbs in hishands, thumbs seeking nipples. At the right spot, she groaned.
Slowly, he pulled back. He dropped his hands to his sides, regretfully leaving her soft,luscious breasts. Pulling away, ending the kiss.
Parris stood in front of him, dazed. Quickly, she followed his lead, sitting on her stool.
She laughed a low, growly sound making him regret pulling back. "Wow, you could have justanswered my question."
"Yeah, sorry about that." Ty said words he didn't mean.