Summer Medieval Madness! Author Hop!
Welcome to the Summer Medieval Madness Author Hop!  Make sure you hop around to the other authors sites for your chance to win special prizes!  Their links are at the bottom of my post.  My featured book for this Author Hop is Angel's Assassin.
SPECIAL TREAT!!!  For those of you who have already read Angel's Assassin, I have a special treat!  At the end of August, I am putting out a novella with more adventures of Aurora and Damien entitled Cherished Protector of Her Heart!  If you'd like to receive this novella free, please comment on this post with your email and I'll make sure you receive a copy!  If you haven't read Angel's Assassin, please go pick up your copy now!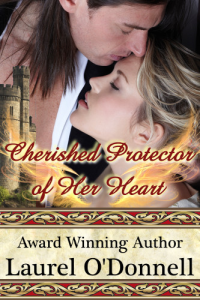 Here's Lady Aurora to tell you a little bit about Angel's Assassin.
Good day, All!  It truly is an honor to have you here so that I can tell you my story.  It is a story of love and redemption.  Of course, I had my doubts at first.
I suppose I should introduce myself.  I am Aurora, Lady of Acquitaine.  I try to be a fair ruler and judge with patience.  Damien keeps me in check these days.  I used to wear myself out taking care of everyone.  I remember days where I would sit in the judgment chair from morn til eve, or at least until I heard all the petitions and complaints.  Now, Damien makes me stick to a schedule.  When the time to hear petitions is over, he stalks into the hall, so brooding and commanding that my poor people cower.  I can only smile at him.  And when I do, his scowl disappears and he is transformed into the Damien I love.  My people don't know his true nature.  They don't know what a wonderful man he is.  I suppose it is his black eyes that scare many of them.  Or maybe that perpetual frown.  One can hardly blame him.  His past was brutal and hard.  His father sold he and his brother, Gawyn, into slavery when they were young.  He spent many years on that slave ship and even darker years under Warin Roke's tutorage to become an assassin.  The marks left on Damien's back from the lashings he received are horrible.  Damien won't talk about it. 
Despite all of this, Damien has turned out to be a wonderful ruler.  The knights respect his skill.  And he is skilled.  Extremely so.  In hand to hand combat, with a sword…and most notably in bed. 
Where does our story start?  When Damien saved me from an assassin right in the center of Acquitaine's square.  Even then, there was a connection between us.  He calmed my fear.  I saw safety in his black eyes.  I wanted to be with him, wrapped in his strong arms.  I knew he was a hero, even though he didn't.  It took a little convincing, but I think I won on that account.
Damien and I have come through a lot.  I can only say that he is the Angel's Assassin.
I have a wonderful summer dessert recipe for you!  It's a White Chip Fruit Tart.  You will love it!
RECIPE!
3/4 cup (1 1/2 sticks) margarine, softened
1/2 cup powdered sugar
1 1/2 cups all purpose flour
2 cups (12 oz pkg) Premier white chips
1/4 cup whipping cream
1 package (8 oz) cream cheese, softened
Assorted fruit
Directions:
1. Heat oven to 300 Degrees
2. Beat butter and powdered sugar in small bowl until smooth; blend in flour.  Press mixture onto bottom and up side of 12 inch round pizza pan.  Flute edge, if desired.
3. Bake 20 to 25 minutes or until lightly browned; cool completely.
4. Place white chips and whipping cream in medium microwave safe bowl.  Microwave at MEDIUM (50%) 1 to 1 1/2 minutes or until chips are melted and mixture is smooth when stirred.  Beat in cream cheese.  Spread on cooled crust.  Prepare FRUIT TOPPING (Below).  Arrange fruit over chip mixture; carefully pour or brush topping over fruit.  Cover; refrigerate assembled tart until just before serving.
FRUIT TOPPING
1/4 cup sugar
1 tablespoon cornstarch
1/2 cup pineapple juice
1/2 teaspoon lemon juice
Stir together sugar and cornstarch in small saucepan; stir in juices.  Cook over medium heat, stirring constantly, until thickened.  Cool.
I do so hope you will like this tart.  Thank you for joining us for Summer Medieval Madness.  Don't forget to visit the other authors!  And please, pick up your FREE copy of The Bride and The Brute.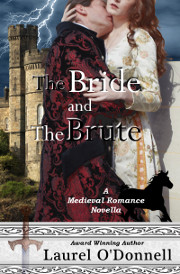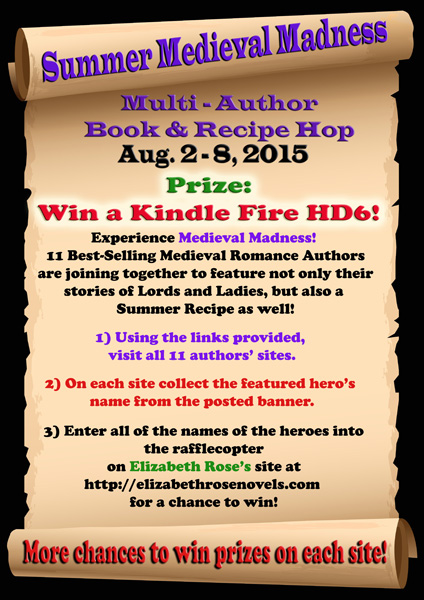 1) Elizabeth Rose            2) Laurel O'Donnell
3) Kathryn Le Veque     4) Tanya Anne Crosby
5) April Holthaus             6) Emma Prince
7) Suzan Tisdale             8) Keira Montclair
9) Eliza Knight             10) Ruth Kaufman     
11) Lana Williams